Duties of Officers in Action
Topic: Officers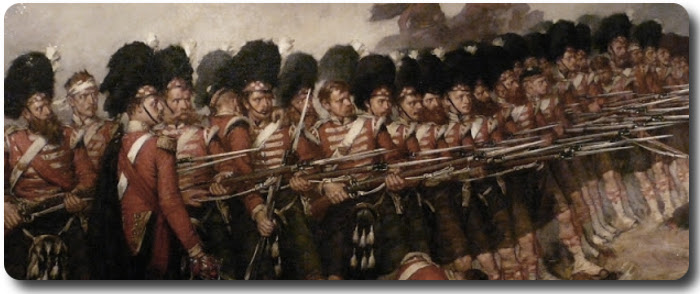 Infantryman, Canadian Volunteer Militia, 1863-1870
This volunteer wears the full dress uniform authorized for the Canadian Volunteer Militia in 1863. Few units would have worn the shako shown in this image, substituting the inexpensive (and far more comfortable) forage cap. The style is generally similar to that worn by British regular infantry, with the white-metal buttons and badges commonly used by militia units within the British empire. Reconstruction by Ron Volstad. (Canadian Department of National Defence)
Duties of Officers in Action
Regulations and Orders for the Active Militia, The Schools of Military Instruction, and the Reserve Militia (in the cases therein mentioned) of the Dominion of Canada; 4th March 1870
367. When in action, almost everything depends on the example shewn to the men by their Officers, the latter should bear this constantly in mind and endeavour to exhibit the greatest cheerfulness, courage and determination, under all circumstances; in battle, neither the hop of reward nor the fear of punishment has so much effect as the power of example; the leader who cries forward may see his men fly disgracefully, but he who, sword in hand, rushes on the enemy will generally be followed.
368. When a battalion is fighting in line in close order, it is the duty of the Officers and N. C. Officers in the Supernumerary Rank, to prevent any break occurring in the rear rank, and they are not to allow any man to leave the ranks without orders under any pretense whatever.
369. Officers must aid in controlling and directing the fire of the men, in checking any waste or unnecessary expenditure of ammunition, and in distributing fresh supplies of the same. No one fighting in the ranks should be permitted to fall out to assist the wounded, but men should be specially appointed to this duty. If in a serious engagement this cannot be observed, the wounded must remain where they lie until the conclusion of the action.
370. When a Battalion is fighting in extended order, the Officers must be on alert to pass the word of command along the line, as the use of the bugles on such occasions is objectionable.
371. When a Battalion or Corps has become broken or disordered, the consequence either of a successful advance or sudden reverse, it is the duty of Officers to exert themselves to the utmost to rally and reform the men as rapidly as possible, and when directed, to lead them on again to the attack.

Posted by regimentalrogue at 12:01 AM EDT
Updated: Sunday, 22 June 2014 12:57 PM EDT