Regimental Lucky Pocket Pieces
Topic: Militaria

Regimental Lucky Pocket Pieces
The Cairn-Craft "Coins"
Today we find regimental coins quite common, whether they are issued by units or regimentals to all members to commemorate significant anniversaries, minted for sale to members, or minted in small numbers to be handed out by commanding officers and regimental sergeants-major in recognition of good work. These types of coins have become sufficiently common that collecting them is growing area of interest for some people. But as common as they might be now, regimental coins are a relatively new phenomenon in the Canadian Army, growing in popularity to such a widespread context and usage over the past few decades.
Canadian regimental coins do, however, have one early forerunner from the Second World War. One small company in Toronto, now defunct, minted a series of coins called the Regimental Lucky Piece.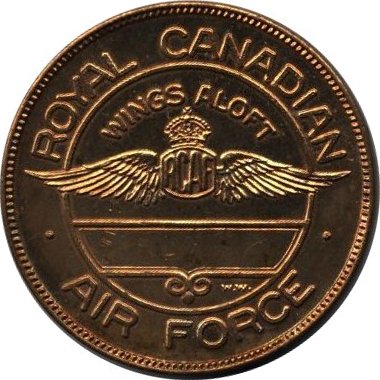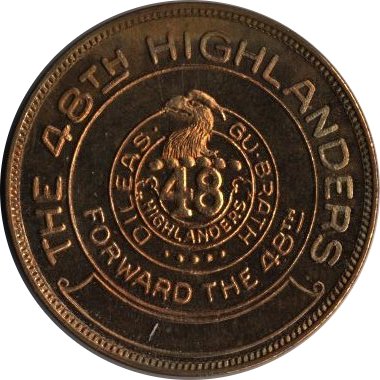 Twenty-five cents got the purchaser, whether a member of the subject unit or a relative or admirer, a 1 ¼-inch (31.5 mm) coin with badge and unit name on one side and generic good luck symbology on the reverse.
Coins can be found for the Royal Canadian Air Force, the 48th Highlanders of Canada, The Toronto Scottish, and the Irish Regiment of Canada. While the coins may be hard to find, it is even more rare to find one still in its original packaging.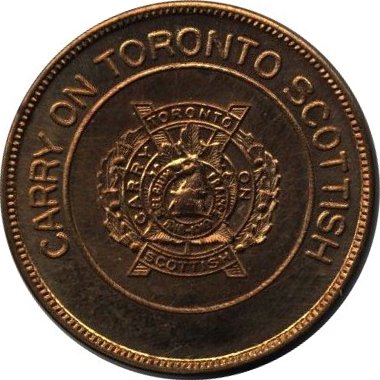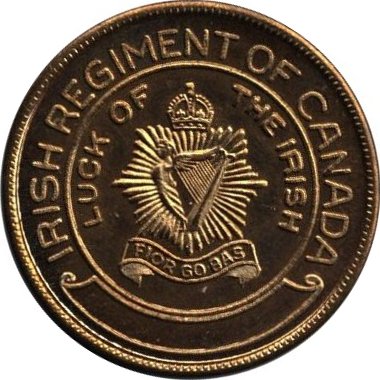 The dearth of information on these coins and their manufacturer was detailed in an article in The CN Journal, published by The Royal Canadian Numismatic Association. The June, 2013, article; World War II Canadian "Regimental Lucky Pocket Piece" by Chris Boyer, F.R.C.N.A. concludes with a request for any further information on these coins or their manufacturer.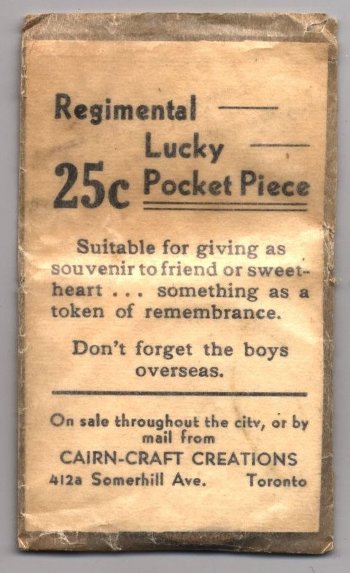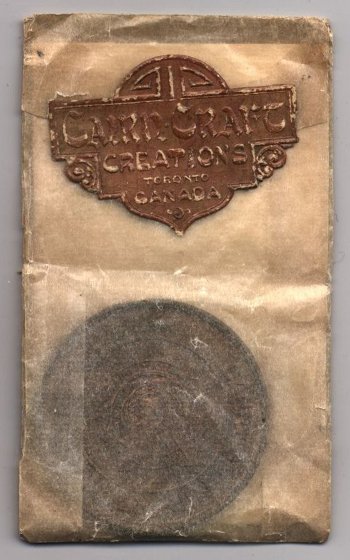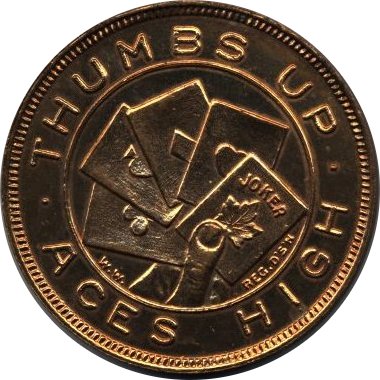 The reverse of the Regimental Lucky Pocket Pieces

Posted by regimentalrogue at 12:01 AM EDT