Character and Leadership
Topic: Leadership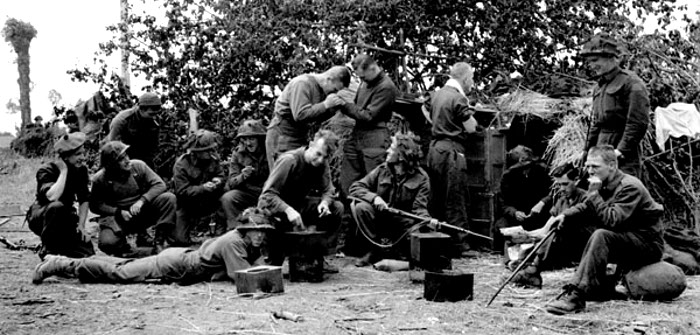 Infantrymen of Lieutenant D.S. Barrie's platoon of The Highland Light Infantry of Canada relaxing during a rest period, France, 20 June 1944. Location: France. Date: June 20, 1944.
Photographer: Ken Bell. Mikan Number: 3205673.
From the Library and Archives Canada virtual exhibit "Faces of War."
Character and Leadership
Canadian Army Training Memorandum, No 32, November 1943
1. Leadership is a combination of qualities, inherent and acquired, which evoke respect, confidence, and a "will to do" from one's fellow men. A leader must know his work, be self-confident, determined and forceful display initiative, and think rapidly in critical and unexpected situations.
2. Your men must instinctively look to you. To achieve this end, you must earn their respect, for your knowledge, for your assumption of responsibility, and for your decisiveness of action. If you know what you are doing, your self confidence will inspire the confidence and respect of your men and be mirrored in their actions.
3. The strength of our army depends upon the calibre of its officers - they must be true Leaders. Assume the role of leader. Be definite, forceful, direct, be self-confident, resourceful, assume responsibility at all times, Look, Act, and be the Leader.
4. An officer sets the example for his troops to follow; his clothes fit are neat and clean; his shoes are shined; his hair cut and combed; he is shaved; and in general, he presents an appearance which can well provide an example for others.

Posted by regimentalrogue at 12:01 AM EDT