'Split personality' hampering Forces
Topic: Canadian Army


The Heller Antitank Missile, the AVRO Arrow fighter, The Bra d'Or hydrofoil and the Bobcat armoured personnal carrier: all Canadian miltary programs that were cancelled.
'Split personality' hampering Forces, say generals
The Montreal Gazette, 16 April 1980
By Jo Ann Gosselin, for Southam News
Ottawa — Canada's security as a nation and the development of the country's high-technology industrial base are restricted by the split personality of her military force, say three former chiefs of defence.
Generals J.A. Dextraze, F.R. Sharpe and J.V. Allard told a meeting of the Air Industries Association of Canada that the problem lies in equipping and sustaining a capable fighting force whose strongest international identity is that of a peacekeeper.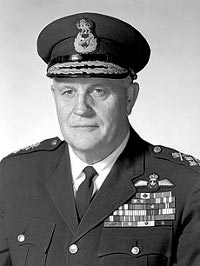 Allard, who was Chief of Defence Staff from 1966 to 1969, said much of the problem was due to a difference in approach between those in the military who sought equipment to support NATO and NORAD forces and those in government who accepted roles on behalf of the military where such equipment was unnecessary.
Until the division between 'warrior' and 'peacekeeper' forces was resolved, Allard said, it was futile for Canada to attempt to define defence policy or issue a white paper on it.
He traced the problem back to the post-Korean War period when Canada's military found itself with obsolete Second World War equipment and a defence budget with little, if any, growth.
With three services clamoring for re-equipment funds, defence chiefs had to struggle to fit requirements into the money available.
Ottawa, Allard says, decided not only to reduce manpower levels to help trim costs, but also to abandon Canadian military-industrial programs — including the AVRO Arrow and the Bobcat personnel carrier.
The scrambling to cover all remaining bases has meant the military has been unable to put a sound, long-term planning program into effect, Allard said.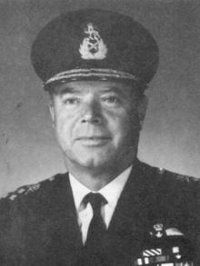 Sharpe, defence chief from 1969 to 1972, suggested that not few of the firms represented at the meeting would prosper if they had to depend on the Canadian military market.
Limited purchases by the Canadian military had forced industry to seek international markets and other applications of advanced technology for domestic use.
He said that in order to maximize defence spending in Canadian industry, government and the military must co-operate in the formulation of defence policy.
Share said this initial input from all three areas would stop the tug-of-war for benefits and performance that hamper most military purchasing.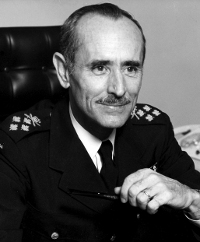 Dextraze, head of the military from 1972 to 1977, said good planning depended on a stable budget and that many of the problems were due to fluctuations in fundss promised and funds available.
He too called for firm direction. There was often too much talk and not enough action.
He did not absolver the military, however. There were times, he said, systems were developed when no one knew to what use they would be put. The hydrofoil Bras d'Or was one example.
Dextraze said it was important that the military have the best tools to do the job and that if security of the country meant anything to Canadians it was time to face facts and screw up the necessary courage to get the job done.

Posted by regimentalrogue at 12:01 AM EDT