Gas at Langemarck; a letter home
Topic: CEF

Must Fight Hun With Own Weapons, Says Canadian
Only Way to Beat Him Is To Use Gas, Asserts a Hero of Langemark
(Special to the Gazette)
The Montreal Gazette, 21 May 1915
Halifax, N.S., May 29—James W. Johnstone, a Halifax boy, and great grandson of Hon. J.W. Johnstone, the Conservative leader in Nova Scotia in the early days of Joe Howe, is at the front as a private in the Second Battalion. In a letter received today, dated May 5, written after the battle of Langemarck, Private Johnstone describes the battle. He says: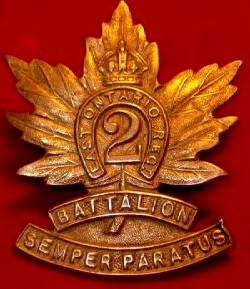 2nd Canadian Infantry Battalion
Battle Honours:
Ypres 1915 '17, Gravenstafel, St. Julien, Festubert 1915, Mount Sorrel, Somme 1916, Pozières, Flers-Courcelette, Ancre Heights, Arras 1917 '18, Vimy 1917, Arleux, Scarpe 1917 '18, Hill 70, Passchendaele, Amiens, Drocourt-Quéant, Hindenburg Line, Canal du Nord, Pursuit to Mons, France and Flanders 1915-18
Perpetuated by:
The Governor General's Foot Guards
"We are now back from the fighting line, about 15 miles, to rest and reorganize. We have nearly 700 casualties in our battalion alone, not enough remaining to make two full companies, even with a draft of ninety new men, and nearly all the Canadian battalions have about the same number of casualties as ours. Everyone behaved splendidly and did what was required of them in spite of the fact that it was really the very first time they had done any serious fighting. For two days we got a merciless shell-fire, I don't know how I escaped for men on either side of me got struck by shrapnel. A Jack Johnson exploded just outside our trench and covered us with the parapet it blew in, so it required some little digging to get out. Those gas shells the Germans use are awful things. The gas affects the eyes and throat and one has not even a fighting chance against them. The only way for the British to do is to fight the Hun with his own weapons.
"The say that there were nearly 100,000 Germans opposed to use but we held the lines until reinforcements came up. Our company, old No. 3 company, was in the trench holding it while the rest retired. Our major was the last man to leave the trench, and as we passed him he told everyone to keep low and run for it. How I got through I don't know. Two bullets went through the pack I was carrying and later I was struck on the side. The iron entrenching tool I was carrying saved me. The bullet glanced off, denting the tool and stunning me for a bit."
---

Posted by regimentalrogue at 12:01 AM EDT
Updated: Friday, 14 March 2014 7:11 PM EDT