Old Tanks for Canada
Topic: Canadian Army

Canada May Get 229 Old Tanks in Deal for Bases
The Day, serving eastern Connecticut; 7 September 1940
Fort George C. Meade, Md. (AP)—Army officers indicated today that 229 rusty but still trustworthy World War tanks here were slated for transfer to Canada for training purposes.
Holding somewhat the same international trade status as did 50 destroyers recently turned over to Britain, the 22 year old obsolete monsters would figure in further United States-Canadian deals for air and naval bases, these sources explained.
Only one of the 229 lined up in an overgrown field—officially listed as a "tank park"—now is in operating condition, justifying its preferred rating by uprooting trees, towing, and clearing land on the post.
Need to Be Put In Shape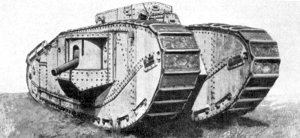 But, tank experts contended the others needed little more than new spark plugs, batteries, fuel, and a healthy yank on the cranks.
Despite rusted exteriors of the 79 "heavies" (battleweight, 80,000 pounds) the interior machinery is in good condition immersed in oil and grease. The "heavies" are 34 feet long, have a maximum speed of six miles an hour, and mount five machine guns and two 2.24-inch guns firing six-pound shells.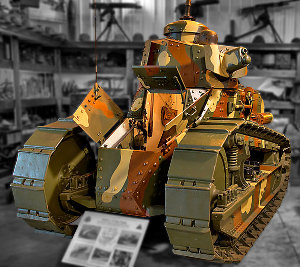 About 154 lighter tanks of French design known as Renaults are in far worse shape. Many have turret tops off and portholes open to the weather. Their engines can—or could in 1918—turn up eight miles an hour. Armament includes a 37-millimetre or .30-calibre machine gun.
Guns for the ponderous vehicles have long been in storage and the tanks themselves have been out of service for years—since Congress ordered the army to halt expenditures for their maintenance and operation.


Posted by regimentalrogue at 12:01 AM EST