Canadian Guard; Buckingham Palace
Topic: Canadian Army

Canadian Units to Mount Guard at Buckingham Palace
Ottawa Citizen; 16 April 1953
For the first time in peacetime history Canadian soldiers are to mount a full guard at Buckingham Palace, army headquarters announced yesterday.
A composite detachment from the army's coronation contingent will relieve the household brigade of guard duty at the palace June 5—three days after the coronation.
The troops will be chosen from The Royal Canadian Regiment, Princess Patricia's Canadian Light Infantry and the Royal 22nd Regiment.
Personnel of the guard, which will consist of 54 officers and men, will not be selected until the contingent reaches England. A captain, three lieutenants, two warrant officers or senior NCOs, two sergeants, four corporals or lance-corporals and 42 privates will make up the guard.
For 24 hours the Canadian soldiers will guard Queen Elizabeth will all the pomp and tradition associated with the ceremony. The detachment, in addition to its duties at Buckingham Palace, also will provide a guard for Clarence House, residence of the Queen Mother.
Guarded During War
Although Canadian troops mounted guard at the palace for several days during the econd World War and placed sentries at the palace gate during the coronation ceremonies in 1937, this will mark the frst time the Canadian army has been given full guard responsibility in peacetime.
Shortly after the 1st Canadian Division arrived in England two Canadian units provided guards at the palace for a week.
The Royal 22nd Regiment, of which the late King George VI was colonel-in-chief, relieved the Welsh Guards on April 17, 1940, and in turn was relieved by the Toronto Scottish regiment whose colonel-in-chief is the Queen Mother. Eight days later the Toronto regiment handed over to the Coldstream Guards.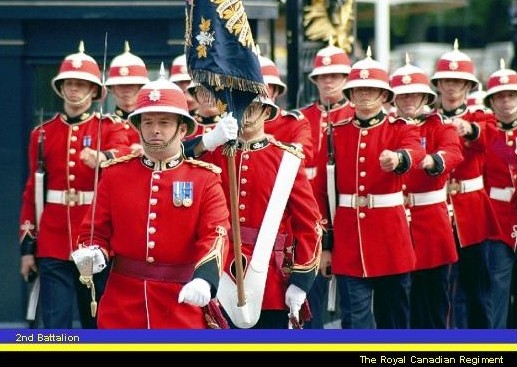 The official website of the British Monarchy — Changing the Guard
"Units from Commonwealth realms occasionally take turn in Guard Mounting. In May 1998, Canadian soldiers from Princess Patricia's Canadian Light Infantry mounted guard at Buckingham Palace for the first time since the Coronation in 1953."
"For the first time in history, Canadian Mounties displaced the Queen's personal bodyguard at Buckingham Palace. The May 23, 2012 event was the Queen's way of honoring years of loyal service from the Canadian Mounties during her Diamond Jubilee year. Jubilee events are stepping up with less than two weeks to go before the central Jubilee weekend.
"The Royal Canadian Mounted Police, as they are formally known, trained with the Queen's bodyguard ahead of taking on their historic role. Queen Elizabeth is Commandant in Chief of the Canadian Forces and in that capacity invited them to take part in the Changing of the Guard."

Posted by regimentalrogue at 12:01 AM EST