Brasso, Blanco & and Bull
Topic: Humour
This book is for anyone who enjoys stories of army life. We've all heard of training under Corporals over-acting in exercising their authority, and Regimental Sergeants Major whose bring forth emotions a recruit's mind that evolve from terror to admiration, or simply the trials and tribulations of learning to survive by the Army's own rules. This book captures so many of those scenes, and many others, with a personal touch that finely captures that balance between comedy and tragedy. In his brief time as a National Service soldier with the British Army, Tony Thorne has captured the spirit of soldierly experience in a wonderfully expressed way that will have you laughing as you imagine people you know in the roles he describes.
Brasso, Blanco & Bull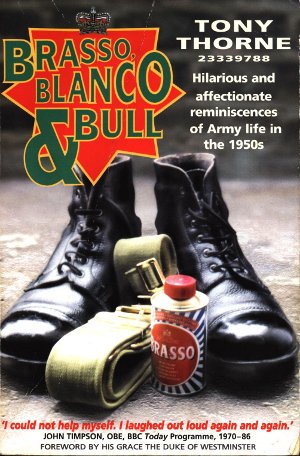 Brasso, Blanco & and Bull is available at Amazon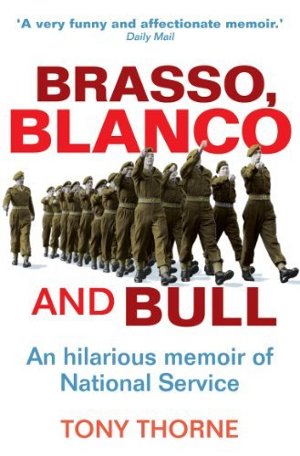 By: Tony Thorne, 23339788
A shout of "Mess" from the corridor outside our barrack room was the signal for us to grab our knife, fork and spoon, together with our white china drinking mug and race outside. There the ordeal began. We were required to line up in single file holding our white china mugs at the high port. This inspection was a Biggy. All three squads would be lined up in the corridor and this inspection would call for at least two, and sometimes even three, corporals. When we were all assembled, the pantomime began.
Cpl Jones pulls up opposite me. He peers into my spotless white china mug.
"'Ere look at this, Cpl Prudence."
Cpl Prudence scurries alongside Cpl Jones.
"What's this in there!" shrieks Prudence, pointing his little index finger inside my mug.
"Er, it's the bottom of my mug."
"CORPORAL! Call me CORPORAL. You shithead. What's that in your fockin' mug! You...."
"Er nothing, CORPORAL."
Prudence to Jones, leering. "What's that in that mug, Corporal!"
"Sheeet! " screams Jones. " 'E's got shit in his mug."
Prudence to me, "Now what's in that fockin' mug soldier!"
" Shit, CORPORAL."
"Louder," screams Prudence and Jones în unison. "Louder."
"SHIT, CORPORAL," I scream.
"Blimey," says Prudence to Jones, " 'E's got shit in his mug."
Jnes peers into my mug much as Sir Lancelot would have peered into the Holy Grail. "What are we going to do about it Corporal!" He asks earnestly of his colleague.
"Smash it. Smash it," they cry out gleefully together. Then they fight each other to grab the mug from my hand and hurl it down onto the concrete floor where i smashes into a thousand pieces.
New mugs had to be purchased from the quartermmaster's store and the stock market saw the price of North Staffordshire Potteries Ltd move to new heights daily.
This ritual was repeated three times a day, every day and the corporals never tired of it. Often the corridor looked like a snowstorm. Twice I bought a brand new mug and had it smashed the same day. On one occasion the whole of No. 3 Squad had their mugs smashed. Mug-smashing was a perk of Corporaldom and they loved it.
Posted by regimentalrogue at 12:01 AM EST
Updated: Thursday, 30 January 2014 12:04 AM EST