Canadian Army Arsenal Request (1958)
Topic: Canadian Army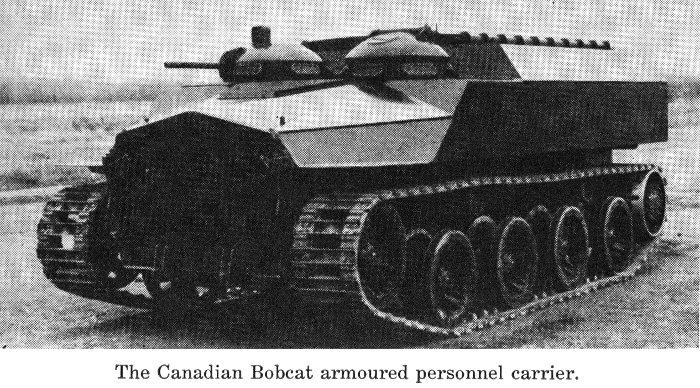 Canadian Army Asks for Awesome A-Arsenal (1958)
The Ottawa Citizen, 6 December, 1958
By: Charles Lynch, Southam News Services
The Canadian Army is making a double-barrelled pitch for a hefty share of the defence budget for the coming year.
In the jockeying now going on between the three services while the defence estimates are being prepared, the army's case is based on these two points.
1.—A whole new family of weapons and vehicles is needed to implement the new tactical concept for atomic warfare.
2.—In the event of a nuclear stalemate, the army would provide the backbone of conventional forces that would be required. The value of conventional forces in special operations such as the United Nations Emergency Force also is being stressed.
The list of new equipment being requested by the Army is headed by an amphibious vehicle known as the "Bobcat," the Canadian answer to the problem of troop mobility on the atomic battlefield.
It's Army's Arrow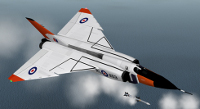 The Bobcat is to the Army what the Avro Arrow interceptor is to the RCAF. Army officials believe it is the most versatile military vehicle yet devised, and they are confident that if it is ordered into production here in Canada, it can be sold to other NATO countries.
It is a tracked vehicle capable of carrying infantry, signals, headquarters, radars and engineers. It can also be used as a gun mount and a supply vehicle. Its machine gun can be used in support of infantry.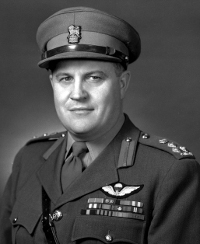 In the words of Major-General Jean Allard, vice-chief of the General Staff, "the army's expenditures which will be asked for in the years ahead are essential from the operational standpoint, and have been planned in accordance with those commitments which the Government of Canada has already made and is most likely to make in the future."
The list of army requirements as set forth in September by Col. Norman G. Wilson-Smith, Director of Combat Development. is an impressive one.
Then comes the Bobcat, the basic vehicle known in army parlance as "Chassis Tracked Light." Various forms of this are needed for various tasks.
Wanted
Next, a family of tactical air vehicles for troop movement and supplies—Helicopters.
The list continues:
Improved anti-tank weapons.
Improved tanks.
Improved small arms.
Reconnaissance aircraft, including helicopters.
Reconnaissance drones "unmanned aircraft" bearing special cameras.
Ground reconnaissance vehicles.
Battlefield surveillance devices (radar, infra-red cameras, television cameras).
Improved wireless equipment.
Harnessing of micro-wave and radio relay to replace land lines in battlefield communications.
Liaison aircraft.
Load carrying aircraft, and tracked vehicles for load carrying on the ground.
New rations, clothing and other equipment to meet the problems of widespread troop dispersal on atomic battlefields.
Spread Out
These things are needed to fulfil what General Allard calls "our agreed tactical concept and the basis for all our future military thinking."
Commenting on the army's requirements last September, he said: "It will cost money, but with a firm concept you can be assured that the money will not be misspent of wasted.

Posted by regimentalrogue at 12:01 AM EST