The Scatcherd Cross
Topic: Militaria
The Scatcherd Cross
High on the wall of
St Paul's Cathedral
in
London, Ontario
, you will find a nondescript wooden cross. Mounted too high to read the brass and tin plates on it's weathered face, it takes a knowledgeable member of the cathedral staff or congregation to also indicate that a brass memorial plaque just around the corner actually goes with the cross.
The cross and plaque commemorate the loss of one of a son of the congreagation, Lieutenant John Labatt Scatcherd, M.C., of the Canadian Field Artillery.
Readable with a zoom lens, the brass plate on the cross reads:
In loving memory of
Lieut. John L. Scatcherd, M.C.
11th Battery, C.F.A.
Killed in Action, Sept 4th, 1918.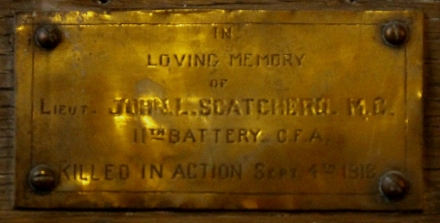 The tin strips read as follows:
G.R.U. (Graves Registration Unit.)
1. C. 44 (The grave reference in Vis-En-Artois British Cemetery, Haucourt.)
Lt. J.L. Scatcherd, M.C.
11th Btty, C.F.A.
The nearby plaque, tucked behind a speaker, offers a little more information:
In loving memory of
Lieut. John Labat Scatcherd, M.C.
Killed in Action Sept 4th, 1918. This Cross
was erected as Vis en Artois, France, by
the Officers & Men of the 11th Battery, C.F.A.
Sent to Canada in 1925.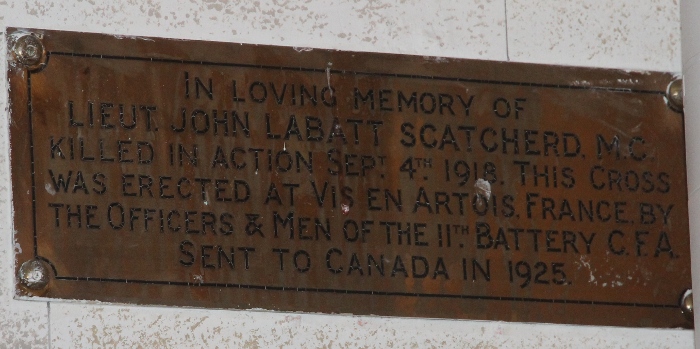 John Scatcherd's attestation paper can be found in the Library and Archives Canada database for Soldiers of the First World War.
We can also find Scatcherd's record on the Canadian Virtual War Memorial. A visit here will also show uploaded images of Scatcherd's gravestone and newspaper clipping announcing his death. The gravestone also reveals that Scatcherd actually was awarded the Military Cross twice ("M.C. and bar").
Digging a little deeper, we can find the citations for Scatcherd's Military Cross awards in the London Gazette.
SUPPLEMENT TO THE LONDON GAZETTE, 2 DECEMBER, 1918
Lt. John Labatt Scatcherd, 11th Bty., 3rd Bde., Can. Field Artillery.
For conspicuous gallantry and devotion to duty. He went forward with the advancing infantry in charge of a brigade patrol, keeping in constant touch with the situation, and sending in information which enabled accurate and effective gun-fire to be brought to bear by the batteries. Though constantly under fire, he was always at hand to clear up a doubtful situation.
SUPPLEMENT TO THE LONDON GAZETTE, 1 FEBRUARY, 1919
Lt. John Labatt Scatcherd, M.C., 11th By., 3rd Bde., Can. Fld. Arty.
During the operations on the Arras front, including the capture of the Drocourt-Queant line, he acted as Reconnaissance Officer in close touch with the infantry from 31st September to 4th October, 1918. He established a series of observation posts, and maintained communications with his battery. This work was done in spite of constant enemy machine-gun and shell fire. By his courage and untiring efforts the battery was able to bring effective fire on to many targets. (M.C. gazetted 2nd December, 1918.)
Artifacts like the battlefield cross from John Labatt Scatcherd's grave are a marker in much deeper ways than their original commemorative purpose. They remind us that each soldier comes from a family in a wider community, and even when a military unit moves on, or dissolves in the changing structure of an Army, that family retains its ties to that soldier and the unit he served with on a long ago battlefield. Not every military artifact worthy of recognition lies in a military museum or has been kept by a unit or regiment. Many others, like this cross, can be found in churches and cathedrals across the country and are worth the time to seek out and then to discover the story of the men and women they commemorate.

Posted by regimentalrogue at 12:01 AM EST
Updated: Sunday, 24 November 2013 7:30 PM EST