Recruit Training (1914)
Topic: Drill and Training

Recruit Training (1914)
From: Infantry Training (4 – Company Organization), 1914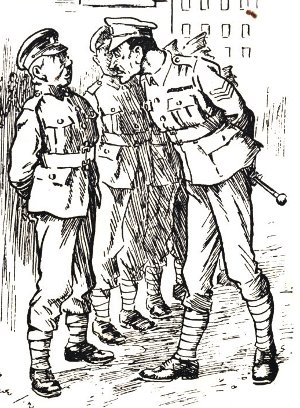 Before being dismissed recruit training every regular recruit will be examined by the depot or battalion commander and a medical officer, who will determine whether he has attained the necessary standard of efficiency, and is physically fit for the duties of a trained soldier.
This examination may take place as soon as it is thought that a batch of recruits has attained the required standard, but never later than six months after enlistment, deducting any periods spent in hospital or under detention.
When once a recruit has been passed as above, he must be considered a trained man with the exception of musketry. A recruit must on no account be passed temporarily and the final stages of the syllabus postponed with a view to taking him for other duties in the meanwhile. The entire course of his recruit training must be continuous.
A special report must be made by the depot or battalion commander, to the district or brigade commander as the case may be, about any line recruit who, after six months training, is found too weak or too awkward for the duties of a trained soldier.
The necessary standard of efficiency before a regular recruit is dismissed recruit training is as follows:—
(a) The recruit must be able to turn out correctly in marching order and fit to take his place in the ranks of his company in close and extended order drill.
(b) Carry out an ordinary route march in marching order.
(c) Have completed his recruit gymnastic training.
(d) Be sufficiently instructed in musketry and visual training to commence a recruit's course of musketry immediately after being dismissed recruit training.
(e) Be sufficiently trained to take part in night operations.
(f) Understand the principles of protection and his duties on guard or outpost.
(g) Be able to use the entrenching implement and entrenching tools and understand the method of carrying tools.
(h) Be well grounded in bayonet fighting.

Posted by regimentalrogue at 12:01 AM EST