Brewing up in the RCASC
Topic: Army Rations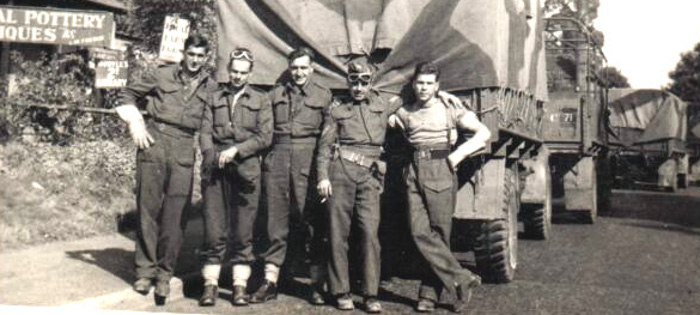 Convoy in England, 1940. See the photo albums at RCASC.org. (See full image.)
Brewing up in the RCASC
From: Wait for the Waggon, The Story of The Royal Canadian Army Service Corps, 1961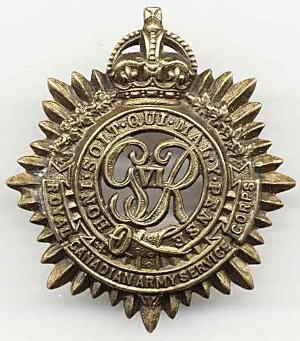 [Drivers of the Royal Canadian Army Service Corps] also learned the art of "brewing-up"—something we didn't know anything about until we joined the 8th Army.
Brewing up—is done in a pail, or anything handy which has a handle and will hold water. It is carried swinging from the rear axle of the vehicle. It bounces around as the vehicle goes along the road, collecting dust, or anything that flies in. When you stop to brew-up, you take this container and, without bothering to shake out the accumulation, you put in water from any convenient source—frequently from the radiators of the vehicles, as far as I could figure it out. Then you add three or four handfuls of tea, scoop out a little hole in the roadside, pour in a quart or so of gasoline, back up about ten feet and throw a match in it. Then you put this pot on top of it until it boils.
You have what is called "brew," and you pour it into mugs and drink it, hot. An egg would float in it with the greatest of ease—sort of a combination of tea and anything you pick up en route.
My Drivers got into the habit of brewing-up, and I encouraged it. In normal convoy driving they always took a ten-minute break every hour, and they would brew-up. I liked what it seemed to do for them. The Drivers from each packet, or section, would brew-up together. They would talk and laugh and tell the latest stories. Then they would get back into their vehicles relaxed for another fifty minutes of driving.

Posted by regimentalrogue at 12:01 AM EST
Updated: Wednesday, 16 October 2013 4:37 PM EDT