The drill square became an asphalt Calvary
Topic: Drill and Training

The drill square became an asphalt Calvary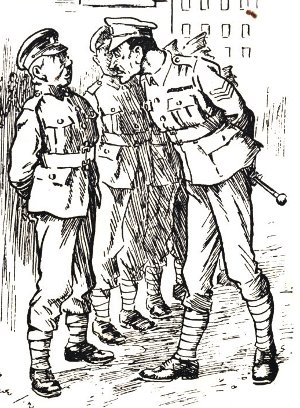 Albert Arthur Fisher by Martin Windrow; from M. Windrow and F. Wilkinson, The Universal Soldier, Fourteen studies in campaign life A.D. 43-1944, 1971
The tricks of improving one's turn-out came hard, and Bert went through hell before he mastered the art of smoothing the toe-caps with a hot spoon, and brushing the muddy blanco on to his webbing in just the right way to give a smooth, caked finish. The drill square became an asphalt Calvary, stalked by instructors who glared under the near-vertical peaks of their caps and howled at him in the weird mock-genteel accents of the British drill sergeant.
'Ho my GAWD ! H'I ain't nevah SEEN nuthink laike you lot ! 'Ow am I h'ever agoin' to turn this SHOWAH into SOLJAHS!… Squa-a-a-d SHUN! H'as'y' WERE ! Sufferin' CHRAIST 'ow many taimes do you need TELLIN'… THAT man there, yes YOU, you long streak o' piss, GET them h'elbows IN ! ' On and on, in a terrible sing-song rhythm, the voice rising to a falsetto screech … 'Lef'ri'lef'ri'lef'ri … Squa-a-a-a-d … HALT! Orda-a-a-h … HIPE! down two three across two three CUTAWAY ! Well that was bloody 'ORRIBLE Fishah, so the 'ole squad will now do it again for YOUR benefit … ' Sweat pouring down the back, arms and legs shaking with fatigue, the rough serge rasping the neck raw above the collarless flannel shirt, rigid and impotent while the contorted face bellowed and writhed inches from his own … 'Y'know what h'Im goin' to do, Fishah? H'Im goin' to CLAIMB up your front by the button'oles, FORCE your nostrils open with me pace-stick, CRAWL up into your pointy little 'ead, AND KICK SOME MUCKIN' SENSE INTO IT!'
And when it was over for another day they would collapse on their beds for a full half-hour before finding the strength to take off their equipment. The food was adequate but drably institutional—soggy boiled spuds, greasy, evil-looking bully beef, grey, unidentifiable mush of root vegetables, doughy puddings. In the evenings there was nothing but the N.A.A.F.I.—tepid beer and torn copies of Reveille or Blighty.

Posted by regimentalrogue at 12:01 AM EST