We Marched on our Stomachs
Topic: Army Rations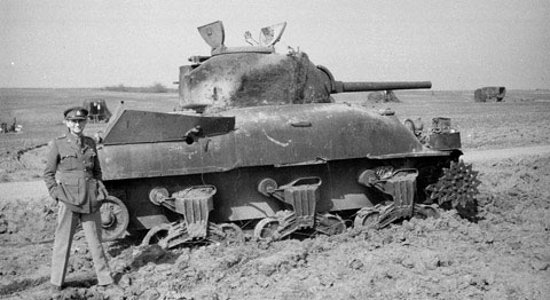 Major Oliver Woods MC with his brewed up tank after the regiment's return to Udem, 1945 (c).
(National Army Museum photo)
We Marched on our Stomachs
Gastronomic Memories of Africa and Europe
By Oliver Woods, M.C., published in the Royal Armoured Corps Journal, Oct 1946
One evening, in those distant days before the battle of Knightsbridge, I was told off to take some petrol lorries up to the tanks which were on manoeuvres. Still somewhat of a novice to the desert, I nervously piloted myself by the wobbling compass over some twenty miles of camel-grass humps until, with intense relief, I saw the barrel of Bir Uaa, which told me that I had reached tho rendezvous.
It was a lovely spring evening and that drive was thirsty work. On board was my NAAFI ration and a bottle of neat gin, about as welcome at that point as the dry biscuit that the Red Queen gave to Alice. For there was no lime, no bitters, and only a very little water, reserved for-the more serious business of shaving and tea-making. It was then that I made the discovery of the Bir Uaa cocktail, where the well is in some form of limestone and the water, when mixed with gin, produces a natural "gimlet," unique and not to be reproduced in the Ritz bars of this world. The secret of Bir Uaa became mine and I disclosed it only to a chosen few—until one day we drove up and found a large military policeman washing his feet in it. Thus polluted and clouded with soap-suds, it was over-run by the Afrika Korps a few days later.
The incident at Bir Uaa taught me that the hardships and privations of war are spasmodic and not chronic; and having outdone Moses by producing a good cocktail out of the Libyan Desert, I used to speculate on what small luxuries the invasion of Europe would produce. In Sicily the answer was a lemon, which came hurled at me by a grinning peasant in a wideawake straw hat after the tanks broke through at Priolo and went racing through the orchards to Augusta. It was a terribly hot noon and there was not time to eat or "brew"; but suck lemons—the first for many years—we could and did.
At the Primasole bridge we found our first good Marsala. It was in a small castle which the artillery used as an observation post. The doctor brought us back a jar full of it, but it was an unhealthy place to visit as the Germans could see the tower from Mount Etna and used to shell it regularly. On going a few days later to replenish, I found our gunners had been drinking it from the great barrels and had left the taps running, an act of vandalism which I still find hard to forgive. For the rest, the wines of Mount Etna were "rough" but pleasant, having what the wine merchants call "a distinctive flavour" which derives from the lava on which the vines grow. In the farms were pigeons which we roasted, sitting among the rushes by the Gornalunga, having split them as we had seen the Egyptians do at the Casino des Pigeons in Cairo.
When we invaded Italy that September, we found the whole of the Foggian plain overrun with turkeys, and Sherman crews, if not "Sherman's dashing Yankee boys," could cheerfully hum:
"How the turkeys gobbled which our commissariat found While we were marching through Georgia."
In the first flush of liberation the farmers gave them away free, but after two or three days they steadied to a market price of five shillings. Even so, the tanks rattled into action at Termoli festooned with plump birds to whom the outcome of the battle was all one, for it was a "Brew" for them other way. There was turkey for breakfast, luncheon, dinner and tea, and when the NAAFI imported tinned turkey for Christmas it was a case of "Owls to Athens."
Normandy, in retrospect, conjures a dismal picture of forces crowded into a constrained bridgehead with every building a ruin, every field full of decaying carcases and little comfort to be had anywhere. Yet there were compensations. My tank, lying some six hundred shell-covered yards from an undamaged farm, fed well for some days. For an exorbitant price, the farmer's wife would cook us each day for lunch a goose, a chicken or a rabbit, with excellent pommes de terres frites, conveyed under a napkin by my driver on a rickety bicycle, booty from German paratroops, in the manner of a waiter rushing a meal across tho street from a West End restaurant to a rich invalid. Here too, we filled our thermos flasks with salty butter, dug potatoes till Army Orders made it a court martial offence, and ate the round Camembert from Bayeux. Drinks were cider and hair-raising Calvadas.
Winter in Holland was an orgy of oysters and champagne. From Bergen-op-Zoom, Breda, Tilburg, and Eindhoven the excellent Zeelanders could be obtained at reasonable prices and in quantities sufficient to refute the complaint —"He had always eaten oysters but had never had enough." In the shops were assistants who opened them as fast as a man could eat. When we moved up for the Rhine assault, we had to devise means of transporting the oysters with us and constructed a mixture of salt water, seaweed and bran in which they lived and grew fat. Unfortunately, the only suitable receptacle was the Colonel's zinc bath-tub, so that on certain nights of the week all oysters had to be eaten in order to allow him to bathe in it.
Noted in my diary during the concluding phases of World War II I find the entry "The gallop through Germany has not been a noted gastronomic success. There is excellent hock and Moselle to be found, but the length of the advance has stretched to breaking point our lines of communication with Brussels and the French wine districts. The occupation is surely going to be a headache for P.M.Cs., and canteen corporals, and not that kind of headache either!"
Still, judged by civilian standards, these fears proved groundless. There was the evening when, following a loud report from the rear of the column, the mess sergeant appeared, saluted, and reported that he had "shot a pheasant and taken two Jerries prisoner, Sir!" (These two had been hiding in the ditch and on hearing his gun go off had popped up with their hands in the air.) And the capture, a few days before the surrender, of a Wehrmacht lorry carrying 600 gallons of Dutch gin proved an effective solution to the problem of organizing VE Day celebrations.

Posted by regimentalrogue at 12:01 AM EST
Updated: Tuesday, 5 November 2013 12:11 AM EST