The Field Bakery
Topic: Humour

The Field Bakery
From: With the Army Service Corps in South Africa, by Sir Wodehouse Richardson, 1903
I have extracted the following from an unofficial report of an officer I had sent to inspect along the line of communications:
Scene. - A supply depot on the veldt.
Dramatis Personae. - An Army Service Corps subaltern, with a section of bakers, engaged in constructing a field bakery on the latest Aldershot pattern.
[Enter General]
General: "What are you doing here?"
Subaltern (saluting): "Constructing a field bakery, sir."
General: "Then you are doing it all wrong."
[The General proceeds to teach the section how a field bakery should be constructed. After marking out the ground with pegs, he places bakers armed with picks and shovels opposite each other, telling no one to start till he gives the order, and then only the two men nearest him.]
General: Now you may commence.
[Of the two bakers, who both keep their eyes on the General, the one with the shovel stoops down and begins to dig, the other with a pick raises it over his shoulder, and, bringing it down smartly, strikes on the head the man with a shovel, who falls insensible. The remaining bakers obtain a stretcher from the nearest ambulance and convey the injured man to the hospital tent, while the construction of the field bakery is postponed sine die].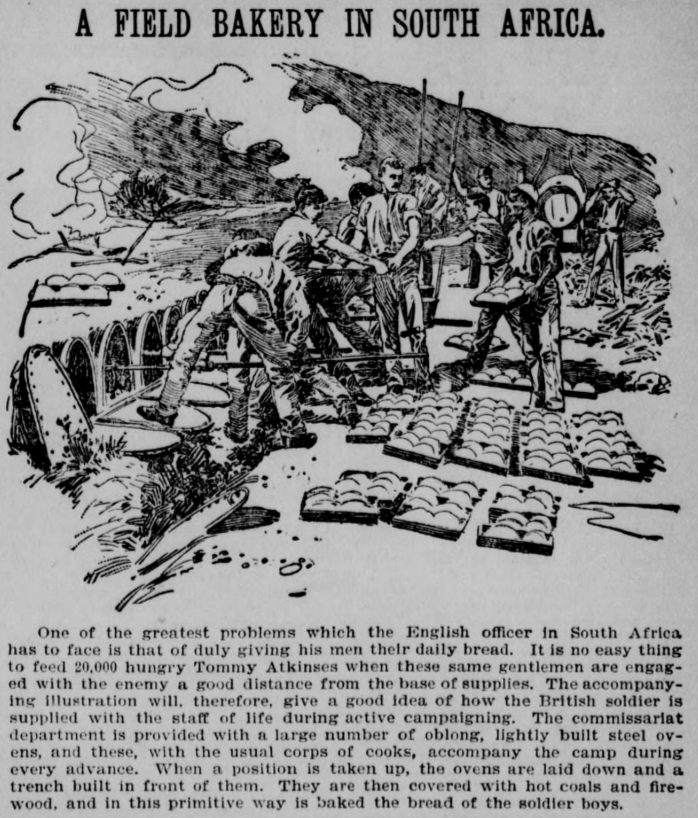 Published in the Los Angeles Herald, Monday Morning, November 20, 1899

Posted by regimentalrogue at 12:01 AM EST