Football in South Africa (1900)
Topic: The RCR
Football in South Africa (1900)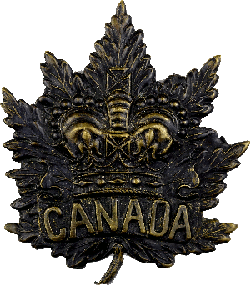 Cap badge worn by the 2nd (Special Service) Battalion, The Royal Canadian Regiment, in South Africa (1899-1900).

From: With the Royal Canadians, Stanley McKeown Brown, 1900
The day was celebrated by a great football match in the afternoon between the officers of the Gordon Highlanders and the Royal Canadians' officers, which went to our men by a score of eight to nothing. Two tries, and the Scotch gentlemen failed to score.
I had seen many football matches but never one exactly like this. It was a colored panorama, but still a white man's game.
Lieut. Marshall of Hamilton, of Tiger fame, who seemed so much at home among the hills there, put a few choice words of advice in the ears of the Canadians before they scampered out to the gridiron in true college fashion. Each winked at the other as if he understood what the Hamiltonian meant when he spoke.
Bloemfontein people came all the way from town to see the struggle, anxious Tommies crowded the touch-lines, and an empty cab, with a driver not quite so empty, supplied the grandstand.
Meanwhile our officers were busy looking up English rules under which the game was played. Having fully considered the seriousness of the proposition the Canadians left their dressing quarters, and headed by Capt. Maynard Rogers of Ottawa, with a solemn face, the procession started for the enemy's country.
The Canadian's team was dressed and undressed this way:—
Chaplain Almond, resplendent in new underwear, a Boer hat and a smile or two on his determined face.
Lieut. Temple, "B" Company, looked dainty in red and black, with bright socks and a becoming "T" on his breast.
Capt. Barker, "C" Company, wore a cigarette and dum-dum bullets, a cap three shades too small and leather stockings. His hair was neatly brushed, so were his boots.
Lieut. Swift, " E ' Company, came in the garb of a Quebec lacrosse player and was very spry in his trim white outfit. He had been looking back and forward to the game for a long time.
Lieut. Marshall, "C" Company (captain of the team), had a tickled look on. also a pair of kharki trousers shorn from the knees down. He wore large boots and no stockings.
Lieut. Armstrong, "E" Company, arrived in a choice red sweater of Alfred the Great pattern. He was also adorned in dress trousers and a sleeping cap.
Lieut. Lawless, "D" Company, hove in sight in the swimming suit which had made him famous in Ottawa and Hull, with a reinforcement of duck trousers. He donned a peanut cap and looked airy and light.
Lieut. Willis, "G" Company, was buried beneath a bunch of woollens, which looked like blankets. His knees were the only parts of his anatomy visible.
Lieut. Oland, "H" Company, was dressed as an Italian count, who had recently struck hard luck. He brought extra boots with him.
Lieut. Lafferty, Quartermaster, flew on to the grounds in his Yukon suit, and struck fear in the hearts of the Highlanders.
Lieut. Stewart, "D" Company, wore whiskers and also had on a toboganning outfit from the Canadian capital.
Lieut. Laurie, "E" Company, had a sort of Sing Sing jersey with klcGill University colors on it. He was also well groomed.
Capt. Burstall, "B" Company, waddled in with an outfit which may have belonged either to Poundmaker or Noah.
Capt. Weeks, came decked in the same suit that his great-grandfather wore in the charge of the Light Brigade. He wore the latest shape in soft veldt hats.
Capt. Fraser, "E" Company, wore lace and chiffon, and, up to the time that he was released from the team, looked extremely smart.
The Canadian officers took the lead and the result was never in doubt.
It was a novel affair in war time, the most interesting part being the study of the Canadian football uniforms worn on that occasion.
---
Library and Archives Canada Database - Soldiers of the South African War (1899 - 1902)

Posted by regimentalrogue at 12:01 AM EDT