Private Charles Daniel Smith, D.C.M.
Topic: CEF
Private Charles Daniel Smith, D.C.M.
1st Canadian Infantry Battalion
In 1914, Charles Daniel Smith was a 19 year old artisan from Listowel, Ontario. The son of Reverend Thomas J. Smith, the family is shown in the 1911 Canadian Census as living at the Saugeen First Nation, but by 1914, Smith records his father as next-of-kin living at Listowel, Ontario.
Smith was one of the thousands of young Canadians who traveled to Camp Valcartier at the outbreak of the First World War to be attested for overseas service as a soldier of the 1st Canadian Infantry Battalion. Smith is described on his attestation paper as 5 feet 8 inches in height with a 36 inch chest measurement. he had a fair complexion, grey eyes and black hair. he was pronounced fit to serve overseas and completed his attestation on 22 Sep 1914.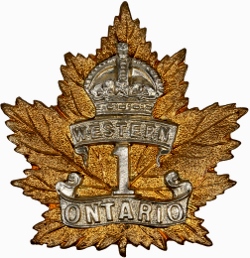 It is clear that Smith performed well as a soldier of the 1st Battalion. By the spring of 1916, he would be awarded the Distinguished Conduct Medal (DCM). The DCM was awarded to soldiers for gallantry in actions and the only higher award for soldiers was the Victoria Cross.
The citation for Charles Smith's Distinguished Conduct Medal was published in the Supplement to the London Gazette, dated 11 March, 1916.
6856 Private C. D. Smith, 1st Canadian Infantry Battalion. - For conspicuous gallantry. After the capture of the enemy's trenches, and all the supply of bombs having become exhausted, Private Smith, on his own initiative, and after several attempts had failed, made five successive journeys through a fire-swept zone and back, bringing up fresh supplies of bombs, thus contributing by his bravery and determination to the successful maintenance of the position won.
He has also been previously awarded a Mention in Despatches, which was Gazetted in Issue No. LG 29422, dated 31 Dec 1915.
Following the end of the First World War and the disbanding of the Canadian Expeditionary Force, The 1st Canadian Infantry Battalion was perpetuated by The Canadian Fusiliers (City of London Regiment). Perpetuation ensured that the honours, awards, and history of CEF units would be carried forth by existing units of the Canadian Army, and not put away to be forgotten as those CEF units were disbanded. The Canadian Fusiliers would be amalgamated with The Oxford Rifles and The Royal Canadian Regiment in the 1950s, with the perpetuation of the 1st Canadian Infantry Battalion (along with five other units) passing to The RCR to sustain.

Posted by regimentalrogue at 12:01 AM EDT