The Carden-Lloyd Carrier
Topic: The RCR
From the journal of The Royal Canadian Regiment, The Connecting File, 1965.
The Carden-Lloyd Carrier
By: Brigadier WJ Moogk
Carden-Lloyd Vickers Machine Gun Carriers were the first mechanical transport of [The Royal Canadian] Regiment acquired before the Second World War.
Their first operational use was in aid of the Civil Power at the Stratford Strike in 1933. They were excitingly described by the press as "whippet tanks." Thus the strikers gained a moral victory as the sad picture of labour being crushed by the brutal soldiery was fearfully exploited. The carriers came with top covers which lent some credence to this story. When these lids were down the result was nearly carbon monoxide poisoning for the driver and gunmen. needless to say the covers were soon removed permanently.
My own pride in assuming command of this early example of mobile armour was exceeded only by my ignorance of their care and handling. hence when Graeme Gibson returned from exchange in England, all "batted up" with the latest lore and Regimental course was set up I was greatly pleased to be included. The candidates who were to learn about these fearsome objects came from the London, Toronto and St. Jean Stations.
The greatest fun was derived from driving. Steering was accomplished by "braking" one track at a time. Two penalties of a sudden turn were either stalling the motor or "throwing" a track. The second resulted in the tiresome procedure of replacement. A heavy, dirty and disagreeable hour's work. The motor made a further contribution to dangerous living by having a penchant for bursting into flame.
With all her faults we loved her still and the full value of this Carden-Lloyd course would be difficult to overestimate. few of us had more mechanical skill that sufficient to operate a bicycle. Only the members of the Sergeants' Mess could afford cars. We were exposed to the rudiments of motors and the driving system and driving. We were among the few prepared for mechanization which burst on us shortly.
It is also highly probable that this pool of mechanical lore, as well as the Carden-Lloyds, was an important factor in the decision to form the Armoured Fighting Vehicle School at Wolseley Barracks. This School became the nucleus of the Royal Canadian Armoured Corps and [The Royal Canadian] Regiment may take pride in having provided important assistance in the formation of this great corps.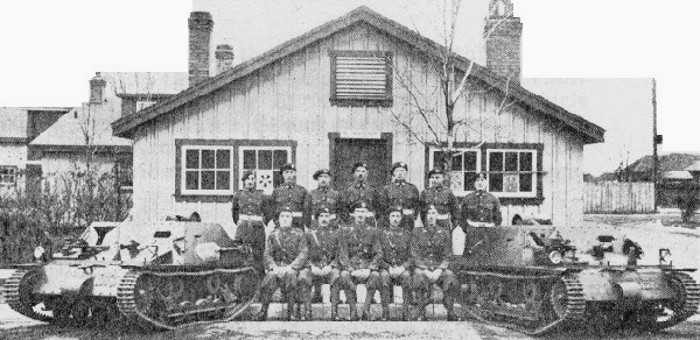 Carden-Lloyd Carrier Course – 1935. left to right, front row. Lt JHWT Pope, Lt RM Crowe, Capt TG Gibson, Lt WJ Moogk, 2Lt DC Spry; Back row, Pte Smith, Pte G Taylor, LCpl Dean, SSgt Jim Fawcett, Pte Ron Spurgeon, Pte JP Cook, Cpl Paddy Garritty.
Lt JHWT "Billy" Pope – Joined The RCR, 1932. Killed in action, 1943, while serving with The RCR in Sicily.
Lt RM Crowe – Joined The RCR, 1933. Killed in action, 1943, while commanding The RCR in Sicily.
Capt TG Gibson – Joined The RCR, 1931. Retired at the rank of Brigadier; CBE, DSO, CD. Deceased, 3 Jan 1986.
Lt WJ Moogk – Joined The RCR, 1934. Retired at the rank of Brigadier. Deceased 3 May 1990.
2Lt DC Spry – Joined The RCR, 1933. Retired at the rank of Major-General. Deceased 2 Apr 1989.
Pte Smith –
Pte GA Taylor – Regt no 15191. Attained appointment of Company Sergeant Major. Deceased 7 Jun 1989.
LCpl Dean – Regt no 16001.
SSgt Jim Fawcett – Regt no 12375. Retired at rank of Major. Deceased 3 Dec 1967.
Pte Ron Spurgeon – Attained appointment of Regimental Sergeant Major. Deceased 15 Nov 1990.
Pte JP Cook – Regt no 13157. Retired at rank of Major. Deceased 31 Jan 2002.
Cpl Paddy Garritty –

Posted by regimentalrogue at 12:01 AM EDT
Updated: Tuesday, 17 September 2013 2:35 PM EDT