The Canadian Forces Officers' Ceremonial Sword
Topic: Humour
Gunner Bulletin No. 16, 1989
The Canadian Forces Officers' Ceremonial Sword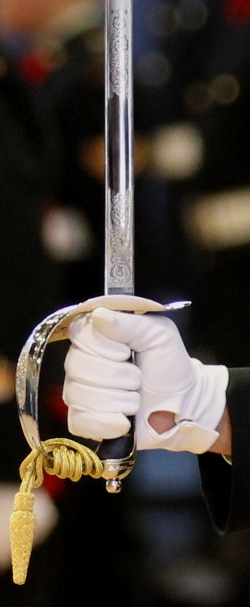 by Warrant Officer K.R. Bell (A Weapons Technician, Warrant Officer Bell is employed in the Standards Cell at the Air Defence School. He emphatically denies any genealogical connection to anyone involved in the Secret Board of Inquiry.)
After years of speculation and minutes of research the true story behind the design of the Canadian Forces Officers' Ceremonial Sword has been unearthed. After much discussion with assorted security types in Chatham and in Ottawa (please don't ask for names, they are still classified), permission has been granted to declassify this contentious issue. A brief history of why the Canadian Forces Officers' Ceremonial Sword is made the way it is today.
SECRET BOARD OF INQUIRY
The time: 2 November 1936
The place: Camp Borden, Ontario Headquarters Building
A secret Board of Inquiry has been convened to find out the reason why so many young officers across Canada have been injured while attempting the newly instituted Ceremonial Parade Sword Drill.
Members:
President - Major General Infantry
Vice - Colonel Armoured Corps
Secretary - Colonel Artillery
Major Engineers - Commander Navy - Squadron Leader Air Force
Court Clerk -Warrant Officer Clerical Corps
Exhibits
A. Officer Cadet to demonstrate Sword Drill
B. Cavalry pattern Officers' Sword Model 1934
The Events: as recorded by Court Clerk
While demonstrating sword drill, and in particular, the movement from At Ease, to Attention, the nervous Officer Cadet sliced off his right ear. Screaming in pain, he unintentionally threw the sword which sliced deeply into the right lower calf of Major Engineers.
Major Engineers, leaps up in pain, upsetting table, dumping hot tea onto groin of Squadron Leader who gasps, turns white, swoons, and falls face down with the sword under him.
Major General Infantry, and Colonel Artillery quickly pick up comatose Squadron Leader and place him in a chair.
Colonel Armoured Corps picks up sword, stating that his corps steel has once again drawn first blood. While wiping the blade, severely cuts his left thumb when Major Engineers bumps into him from behind.
Colonel Armoured Corps then says a very unofficer like word, and when Colonel Artillery laughs loudly, slams the sword angrily down on the Court Clerk's desk.
Commander Navy, in great excitement, and saying that the poor dear might never be the same, quickly pulls down the still swooned Squadron Leaders pants to check him for scalding.
Exclaiming "Oh my, how Air Force, it comes in pink!" He stands up and backs into the point of the sword which inbeds itself about three inches into his left buttock.
Things at this time were happening rather quickly, however, the clerk stated that the following were concurrently happening.
The Officer Cadet is screaming and looking for his right ear, while bleeding profusely.
The Major Engineers is hopping around on one leg also yelling and bleeding profusely.
The Squadron Leader is still swooned, sitting in a chair with his pants around his ankles.
Commander Navy is screaming "Pull it out, pull it out!", while bleeding profusely.
Colonel Armoured Corps is swearing loudly at Colonel Artillery, while bleeding profusely. Colonel Artillery, laughing so hard he now has tears flowing down his face, further upsets Colonel Armoured Corps by offering some unorthodox, and impractical medical advice.
Major General Infantry is standing with a very strange look on his face, obviously in shock.
The following is then documented.
Warrant Officer Clerk, showing his organizational and first aid skills, quickly bandages up Officer Cadet's head and finds his ear under the table. He then bandages Colonel Armoured Corps thumb, and Major Engineers lower calf. "Pulls it out" of Commander Navy and tells him to stick something in the hole that will "aid" him (a little play on words there) and gets Major General Infantry and Colonel Artillery to hoist Squadron Leader's pants and revive him.
Colonel Artillery picks up sword, and as he sheaths it to its leather scabbard, cuts his index finger.
Colonel Armoured Corps seeing this, roars with laughter, and Colonel Artillery punches him in the mouth with his good hand.
Major General Infantry steps between Colonel, and receiving an unintentional low blow from both Colonels at the same time, falls to the floor.
Warrant Officer Clerk, calls "Room". Restores order. Makes medical and physiological repairs. Arranges transportation to hospital for all members.
Prior to Court members leaving for the hospital, they vote unanimously that Warrant Officer Clerk redesign the Officers' Sword pattern as he sees fit, and they vow to sign without question his recommendations. They asked only for his discretion.

The following design changes were accepted, and enthusiastically endorsed by all board members.
The shape and length of the sword to be taken from the British Infantry Model of 1838. (in deference to the RC Infantry Corps, Queen of Battle, and because the Major General Infantry signed the final report)
The ordnance steel to be covered with a chrome plating. (to help young officers identify it when they misplace it).
The Guard to be a full basket in front with a single rail guard to pommel. (to remind us that our job is to protect young officers from their own folly, and attempt to keep them from harm)
Pommel to be decorative. (it might as well be, a pommel is good for nothing anyway)
The Hilt to be metal, and chromed. (again, to keep the Navy happy)
The Grip to be made of a non-slip material, black, and encircled by gilded wire. (to save them from dropping it on parade, and embarassing us all)
The Scabbard to be full metal, chromed, and the edges gently rounded. (to provide every bit of protection we as Senior Non-Commissioned Officers can give them)
A Guild Cord with decorative end to be attached to the rear of the guard under the pommel. (a wee dangley thing, to remind us of the Air Force)
The Blade to be always kept extremely dull. (to protect our Pension funds which would now be non-existent if the blades were still sharp)

Posted by regimentalrogue at 12:01 AM EDT