The RCR Depot Kit Layout
Topic: Drill and Training

The Royal Canadian Regiment Depot
Junior Non-Commissioned Officer Course
Kit Layout
The inspection of recruits is a common and familiar theme when military training is shown in movies. What is seldom learned by those outside the military is that a return to a basic training style inspections happens with the training of non-commissioned officers. This is as much to create the desired training environment as it is to have candidates provide their peers a model section to practice instructional techniques on one another, and to practice inspections themselves when the Staff aren't doing so.
The following images are from the student handbook provided by The Royal Canadian Regiment (RCR) Depot to candidates on Junior Non-Commissioned Officer Courses. The RCR Depot existed as a training unit of the Canadian Army at Wolseley Barracks, London, Ontario, from 1953 to 1968. After this period, infantry soldiers for The RCR were trained at The RCR Battle School at CFB Petawawa until 1995 when it moved to Land Force Central Area Training Centre (LFCA TC) Meaford and was absorbed by that base/unit.
These layouts, or variations of them, will be familiar to many serving and retired Canadian service members.
Kit Layouts for:
(1) Commanding Officer's (CO's) Inspection
(2) Daily Inspection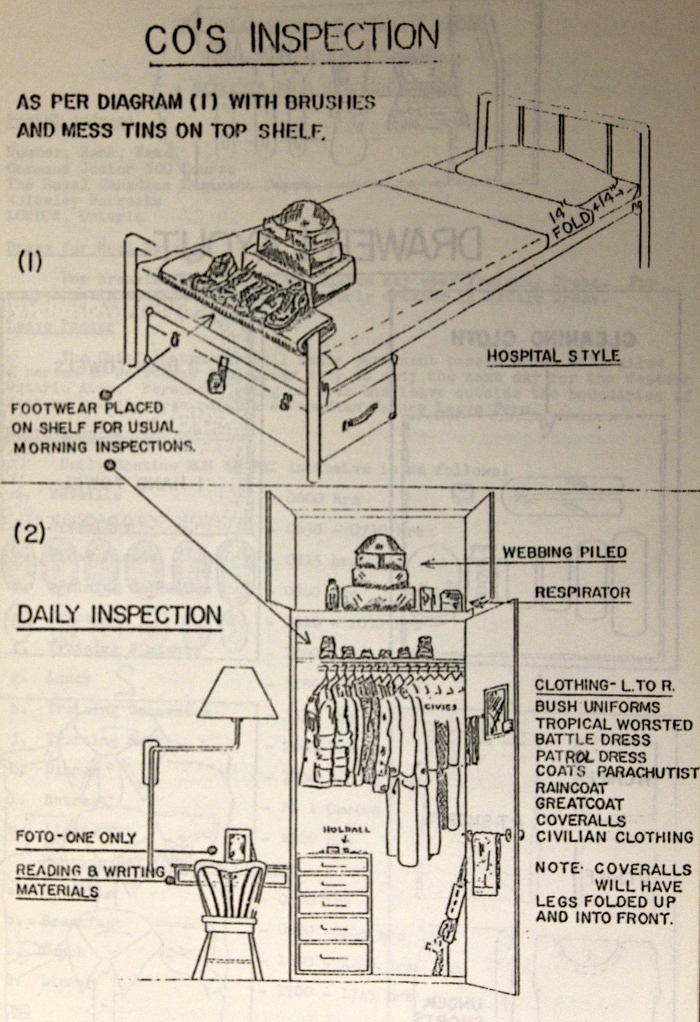 Posted by regimentalrogue at 12:01 AM EDT