Platoon Weapons and Ammunition (1942)
Topic: Soldiers' Load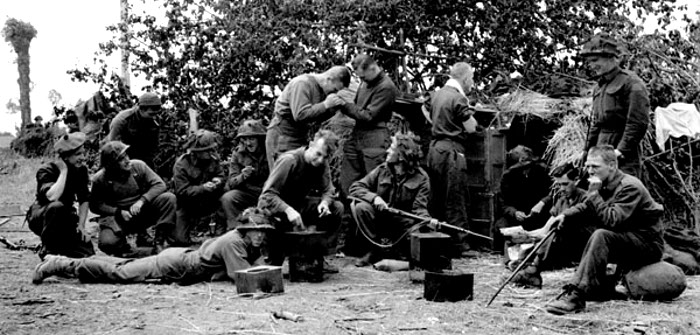 Infantrymen of Lieutenant D.S. Barrie's platoon of The Highland Light Infantry of Canada relaxing during a rest period, France, 20 June 1944. Location: France. Date: June 20, 1944. Photographer: Ken Bell. Mikan Number: 3205673. From the Library and Arcives Canada virtual exhibit "Faces of War."
Memorandum on Platoon Battle Drill
20 July 1942
The Infantry Platoon (1942)
Distribution of Weapons and Ammunition
The platoon can easily be broken up into four sections of eight men each for Fieldcraft or Battle Drill training.
This is done by putting the following men into a 4th section:
Platoon Commander
Platoon Sergeant
No. 1 Anti-Tank
No. 2 Anti-Tank
No. 1 Mortar
No. 2 Mortar
Runner
Batman
By falling in every day in the Platoon, especially if each man's position is changed daily, all will learn the organization of the platoon almost without giving thought to it.

Appendix A
Weapons and Ammunition Carried on Men in Platoon
| | |
| --- | --- |
| Platoon Commander | Normal equipment of an officer. |
| Platoon Sergeant | Rifle & Bayonet, 50 rounds S.A.A., 3 BREN magazines. |
| Batman | Same as Pl. Sgt. |
| Runner | Same as Pl. Sgt. plus Very Pistol and 12 white, 6 red and 6 green flares. |
| No. 1 Anti-Tank | Anti-Tank Rifle, 100 rounds S.A.A., 1 A/Tk magazine. |
| No. 2 Anti-Tank | Rifle & Bayonet, 50 rounds S.A.A., 1 set Utility Pouches, 5 A/Tk magazines. |
| No. 1 Mortar | Mortar, 4 H.E. in basic pounches, 1 case H.E. |
| No. 2 Mortar | Rifle & Bayonet, 50 rounds S.A.A., 1 case 6 H.E. and 1 case 6 Smoke, 4 H.E. in basic pounches. |
Carried by each Section:
| | |
| --- | --- |
| Section Commander | Tommy Gun, 5 magazines, wire cutters. |
| Section 2IC | Rifle & Bayonet, 50 rounds S.A.A., 3 BREN magazines. |
| No. 1 Sniper | as Section 2IC. |
| No. 2 Sniper | Same as Section 2IC. |
| No. 1 Bren | BREN Gun, 3 BREN magazines, spare parts wallet. |
| No. 2 Bren | Rifle & Bayonet, 50 rounds S.A.A., 9 BREN magazines, 1 set Utility Pouches. |
| No. 1 Grenadier | Rifle & Bayonet, 50 rounds S.A.A., 4 H.E. grenades. |
| No. 2 Grenadier | Rifle & Bayonet, 50 rounds S.A.A., 4 Smoke grenades. |

Posted by regimentalrogue at 12:01 AM EDT