The Mess Tin Ration (1942)
Topic: Army Rations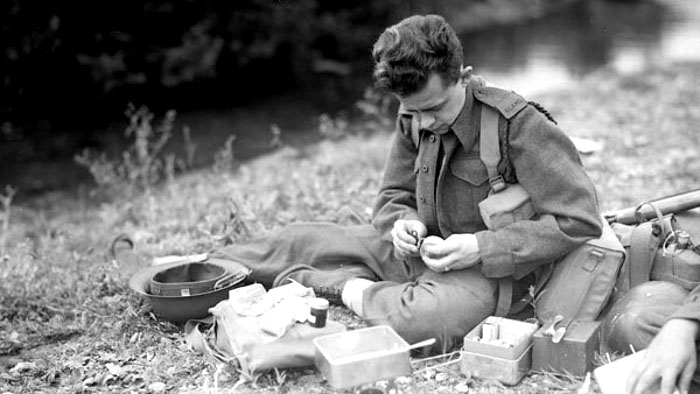 An unidentified member of the Royal Canadian Army Medical Corps (R.C.A.M.C.) conducting field trials of mess tins and emergency rations, Penobsquis, New Brunswick, Canada, ca. 2-11 September 1942. Location: Penobsquis, New Brunswick, Canada. Date: [ca. September 2-11, 1942]. Photographer: Unknown. Mikan Number: 3582271. From the Library and Archives Canada virtual exhibition Faces of War.
Operational Feeding
The Use of Field Rations
1942
The Mess Tin Ration (1942)
The mess tin ration or 48-hour ration provides subsistence for the first 48 hours after landing.
This consists of tinned commodities of a sustaining nature packed in a form suitable for carrying in the two halves of a mess tin, together with a Tommy cooker, which contains enough solidified fuel to make hot drinks. The food items are:—preserved meat; biscuits and dripping, which are suitable for a breakfast meal; and and cheese, chocolate and boiled sweets which make a suitable mid-day meal or haversack ration, and in addition there is a tin of tea powder ready mixed with dry milk and sugar which will make a mug of tea with each cooked meal.
This ration is issued either before embarking, if the voyage is a short one, or during the voyage if it is a long one—BUT—wherever the ration is issued, it is important to remember that it is for consumption during the first two days after disembarkation. Therefore, troops must not get inquisitive and sample the tine before they disembark or they will go hungry after landing, when they really require good feeding. The ration must be packed in the mess tin in accordance with the diagram issued with the rations, and produced intact when instructed for inspection by an officer, which should be a daily routine. Opening the tine before landing may result in salt water getting into the biscuits or tea mixture and making them useless. It will be the only food for the first two days and if lost or eaten before disembarkation no more can be provided during this period.
Appendix A – Mess Tin Ration
Scale:—
Biscuits, service
9 ozs
In 1 sealed tin which fits in the larger half of the mess tin.

All time, including Tommy cookers and also the matches are delivered to the ships in bulk quantities, e.g., cheese tins in boxes of one gross, 1 1/1 oz. tins and marked:

S.R.D. ♣ CHEESE

Biscuits, sweet
3 ozs
Raisin chocolate
8 ozs
Sweets, boiled
4 1/2 ozs
Cheese (2 x 1 1/2 oz. tins)
3 ozs
These tins fit in second half of mess tin.
Dripping spread (1 tin)
2 ozs
Tea, sugar, milk powder (1 tin)
5 ozs
Meat, preserved
12 ozs.
Miniature safety matches
1 box
1 Tommy cooker (round type) to be carried separately.
It is suggested that the ration might well be employed in the following manner over the 48 hours, but it must be realized that this is only a guide and the nature of operations will be the deciding factor:—
(a) As operations will not permit regular meals, the energy producing foods, such as sweets, chocolate and sweet biscuit, should be consumed throughout the two days, as the needs of hunger dictate to the individual; they will provide warmth and energy for physical work.
(b) Tea should be taken (as far as practicable and provided the use of Tommy cookers may be allowed during darkness), during periods of greatest cold and fatigue, generally during the night, early morning, or following periods of great exhaustion.
The Tommy cooker when in use must be shielded from all draughts, either by being placed in a trench, or protected by a tin, etc., or even by the hands. Water is brought to the boil much more rapidly if the top of the mess tin is covered. As the Tommy cooker cannot heat sufficient water for the whole of the tea ration, fires should be used when weather and air conditions permit.
(c) The dripping spread with service biscuit is most suitable for breakfast, and the preserved meat, cheese and biscuit for dinner and/or supper. These foods, with the tea, should be eaten during the periods of lull. The preserved meat for two days is in one tin; therefore, when practicable, tow men should arrange to share their tins, opening one tine only during each 24 hours.
(d) On no account will the ration be taken or accepted from wounded men, as otherwise dressing stations may find considerable difficulty in feeding patients during the first 48 hours of the operations.
Note.—The tea-sugar-milk powder produces fix to six pints of tea.

Posted by regimentalrogue at 12:01 AM EDT
Updated: Wednesday, 7 August 2013 3:18 AM EDT