An Officers' Mess in India
Topic: Officers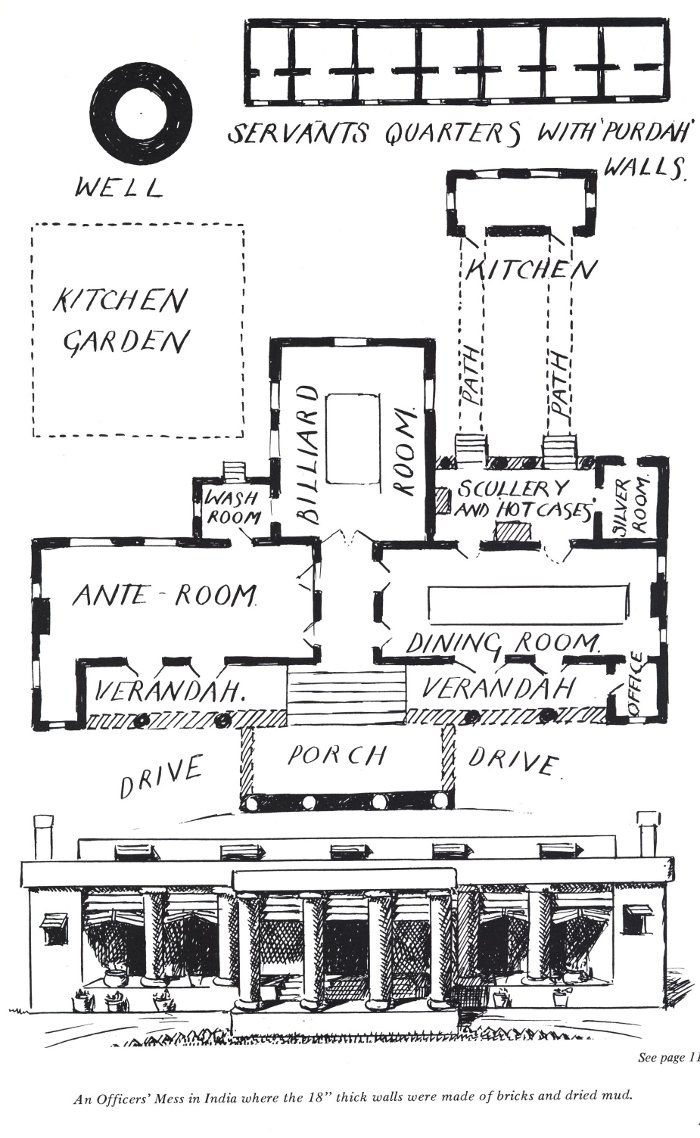 Diagram of an Officers' Mess in India.
Image and text excerpted from: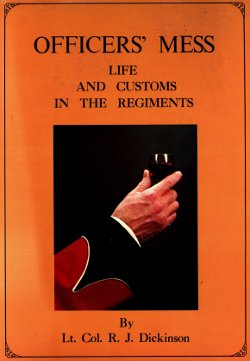 Officers' Mess Life and Customs in the Regiments, by Lt. Col. R.J. Dickinson, Essex Regt and RAOC; with illustrations by Lt. Col. Frank Wilson, Parachute Regt and Queen's; Chapel River Press, 1977
This delightful volume wonderfully describes officers' mess to the middle decades of the 20th century. It is highly recommended for anyone with an interest in the regimental life of the British Empire officer of this period.
The walls of old messes in India were made of bricks and dried mud, about 18" thick. Later new messes of red brick were built but nearly so cool.
There was always a vast porch in front of the mess under which, in the old days, a horse, 'syce' and 'turn-turn' could wait in the shade.
The front or sides of the bungalow had a veranda decorated by the 'malis' with flower pots. The roof of the bungalow was supported by pillars or curved arches. 'Chicks' or screen blinds of finely split bamboo, laced by string, and usually painted green outside, were let down to keep out the glare of the sun.
The rooms were high and ceilings supported by wooden beams riddled with white ants.
The floors were of dried mud and covered by 'chatai', a closely woven rush matting above which there was a dusty 'dhurrie' or carpet.
Behind the dining room was a small veranda. During a meal it was a scene of much activity and squabbling as servants attempted to get at the 'hot boxes' to procure luke-warm food for their masters.
The kitchen was about 100 yards to the rear of the mess and hot food had to be carried to the 'hot boxes', kept warm by charcoal. 'Kite hawks' did their best to swoop down to get at it.
In a British regiment, the mess corporal usually slept in dignified isolation in the heavily barred silver room.
The servants' quarters were well to the rear, made of dried mud with 'purdah' walls all round. In the small dark rooms the servants, their families and a few poorer relations lived in noisy happiness.
The well was worked by two bullocks and usually of the 'Persian wheel' type. The bullocks went round and round, blinded by blinkers in case they got dizzy, drawing up small earthenware pots of water. The water was diverted into narrow mud channels to water the lawn an kitchen garden.
As the Persian wheel went round it made a pleasant moaning sound which will be remembered by all who served in the East and induced sleep to all including the bullocks and their driver with his sharp prong used to urge them on.
---
Syce – groom
Turn-turn – Dog cart driven by officers before the days of motor cars.

Posted by regimentalrogue at 12:01 AM EDT