Battlefield Cross; Wesley-Knox United Church, London, Ontario
Topic: CEF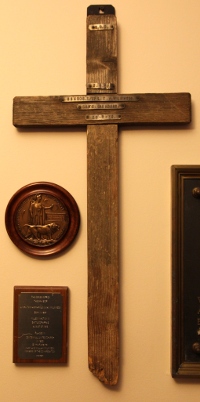 In the sanctuary of the Wesley-Knox United Church in London, Ontario, can be seen the battlefield grave maker for 654306 Lance-Corporal Thomas Harold Inman Wilkinson. These wooden markers were placed by grave registration units and later replaced by the stone markers erected by the Commonwealth War Graves Commission.
Thomas Wilkinson was serving in the Canadian Expeditionary Force with the 58th Canadian Infantry Battalion when he was killed in action on 29 August 1918.
Accompanying the cross is the Memorial Plaque sent to his family after the war. A dedication plate mounted beside the cross and Memorial Plaque reads:
"This Cross if from the Grave of L/Cpl Thomas Harold Inman Wilkinson. Born in 1897. Killed in Action in Battle of Arras, August 27, 1918. Placed in Centennial United Church in 1930 by his Parents Mary and William Wilkinson, Members of the Congregation."
In 2006, Centennial United Church and Wesley-Knox United Church amalgamated, and the Cross was moved to its current home.

The availability of increasing amounts of information on the Canadian Expeditionary Force (CEF) and its soldiers lets us complete some initial research into Wilkinson's service.
From the Library and Archives Canada database for Soldiers of the First World War – CEF, we can find Wilkinson's entry, which reveals his Attestation Paper, and the file reference for ordering his service record.
Regimental number(s): 654306
Reference: RG 150, Accession 1992-93/166, Box 10372 - 29
Date of Birth: 15/06/1897
The Canadian Virtual War Memorial, operated by Veterans Affairs Canada, also has a page dedicated to Wilkinson. This page also leads to an image of the page of the Books of Remembrance on which his name is inscribed.
We can also find Wilkinson in the collection at Library and Archives Canada known as the Commonwealth War Graves Registers. These are the records of the burials, and reburials as required, of each soldier whose body was recovered and moved to one of the Commonwealth War Graves Cemeteries.
In order to dig into the circumstances surrounding a soldier of the First World War, Library and Archives Canada offers the daily record maintained by each unit of the CEF, the War Diaries. discover what the unit was doing at the time. The War Diary of the 58th Canadian Infantry Battalion records the activities of the unit but, as with most unit War Diaries, rarely makes mention of individual soldiers by name.