Before the Osprey was the Dynavert
Topic: RCAF

Artist's rendering of the three RCAF/CAF Dynaverts in formation. From the Sentinel April 1969.

Over a decade before the origins of the V-22 Osprey, Canada experimented with its own VSTOL aircraft, the CX-84 Dynavert. Featured in the pages of the Canadian Armed Forces (CAF) publication, Sentinel, in 1969, this experimental VSTOL (vertical and short take-off and landing) aircraft went into limited production for trials by Canada's military.
Three of the four Canadair CL-84 Dynaverts that were produced were used for flight testing and demonstration. The CAF evaluated the aircraft with the intention of trialing them in a variety of operational roles. Planned mission types for the aircraft included resue and evacuation, visial, electronic and photo reconnassance and armed escort. It was also considered for shipboard operation in the Navy and all types of tactical airmobility tasks.
The CL-84-1 prototype, in the hands of 18 pilots, "accumulated 405 operating hours, including 145 flight hours in 305 flights." Following this success, the three operational aircaft totaled over 700 flights at the hands of pilots from Canada, the UK and the US.
Following the success of the prototype, In February 1968, the RCAF ordered three aircraft for evaluation in various military roles. Initially designated CX-84 and numbered 8401, 8402 and 8403, the creation of the CAF through Unification resulted in their designations changing to CX-131, with the aircraft serialized 13101 to 13103. Although delivered in CAF markings, the CAF designation and serials were never applied, instead the RCAF designation and serials were shown and were continued to be used. Despite the Dynavert's performance, no production orders resulted from its trials.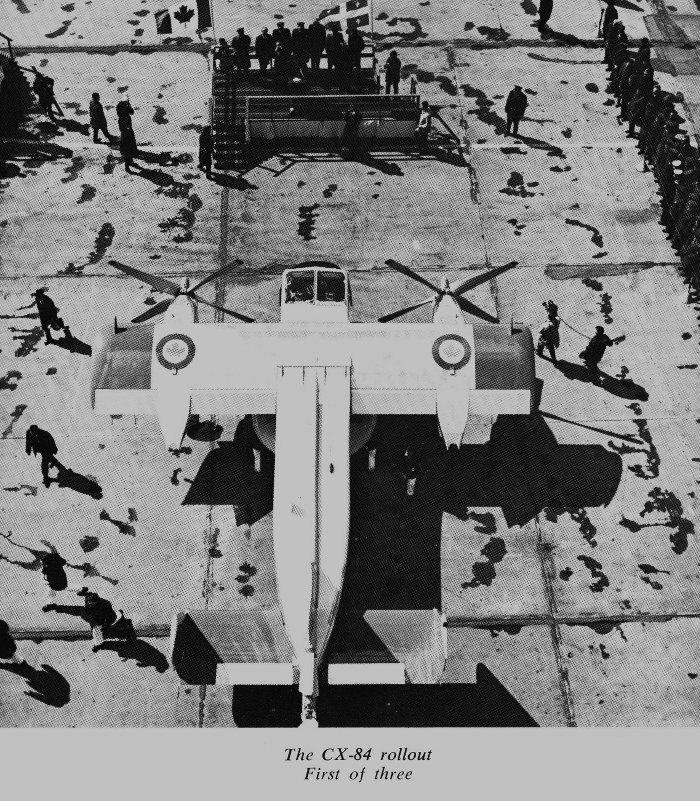 Rollout of the first RCAF/CAF Dynavert, From the Sentinel, July-Auguat, 1969.

Two remaining CL-84s can be seen at:
CX8402 at the Canada Aviation Museum in Ottawa.
CX8403 at the Western Canada Aviation Museum. Never flown, this aircraft has never been restored and only the fuselage and portions of the wing are on display.
More on the Dynavert:
Artist's rendering of a RCAF/CAF Dynavert. From the Sentinel April 1969.
Posted by regimentalrogue at 12:01 AM EDT
Updated: Monday, 17 June 2013 2:54 PM EDT