The Lewis Gun Section (1925)
Topic: Soldiers' Load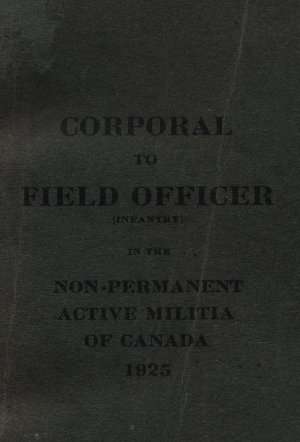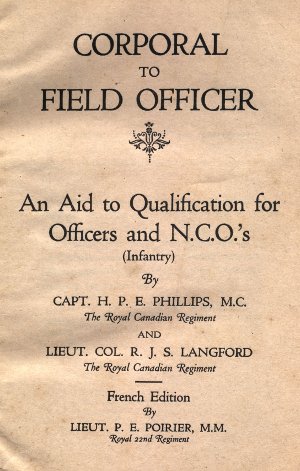 Cover and Title page from Corporal to Field Officer (1925)

A Lewis Gunner of The Royal Canadian Regiment, 1919.
The Canadian Army finished the First World War with the Lewis firmly entrenched as the principle source of firepower within the infantry platoon. This would not change until the introduction of the Bren Gun in 1939. The following extracts, from a 1925 guide for officers and non-commissioned officers of the Canadian Militia, describes the Lewis Gun and its Section.
---
Corporal to Field Officer (Infantry)
An Aid to Qualification for Officers and N.C.O.'s
In the Non-Permanent Active Militia of Canada
1925
By: Capt H.P.E. Phillips, and Lieut.-Col. R.J.S. Langford
---
Infantry in Battle
Lewis Gun
There are two Lewis Gun Sections per Platoon. Each Section has one Lewis Gun and consists of 1 N.C.O. and 7 Privates. There are 2 Lewis Guns in the Headquarters Wing of each Infantry Battalion for Anti-Aircraft work. Total Lewis-Guns per Battalion, 34. The characteristics of the Lewis Gun:—
(a) Rapid production of great volume of fire which can be turned instantly in any direction.
(b) No fixed tripod , therefore less accurate than the Vickers and cannot be used for indirect fire.
(c) Air cooled therefore not capable of sustained fire.
(d) Delicate mechanism and openness to mud and sand render it liable to stoppages.
(e) Easily concealed.
(f) Cone of fire is long and narrow, therefore suited to deep targets or enfilade.
(g) Range 2,800 yards. Rate of fire 8 rounds per second. Weight 26 lbs.
(h) Ammunition is loaded in magazines holding 47 rounds. Loaded magazines weigh 4 lbs. 6 ozs. Empty magazines 1 1/2 lbs. Magazines can be changed in 2 seconds and loaded in 75 seconds. 20 magazines per Lewis gun.
(i) Mobi1ity of Lewis Gun Section slightly less than Rifle Section.
(j) Fire of Lewis Guns fitted with Anti-Aircraft sights and mountings is dangerous to planes under 3,000 feet.
The normal number of magazines carried by the Section in warfare is 20 (940 rounds), but in case of necessity an additional 18 can be carried.
Lewis Gun Sections operate with their Platoons and should only be separated from them in exceptional circumstances.
Lewis Guns use up ammunition very rapidly. Their fire should therefore not be used for targets at long range. Fire should be reserved for covering the advance of rifle sections, for surprise, or for specially good targets. The Lewis Gun will always fire in short bursts, except when used in anti-aircraft defence. In attack when the advance can no longer be continued without opening fire Lewis Guns can:
(a) Be used to beat down enemy fire while the rifle sections work around the flanks of the enemy centre of resistance to within assaulting distance.
(b) Be used to effect surprise and enfilade by working round the flanks while the rifle sections pin the enemy to the ground.
(c) Be pushed forward so that the remainder can advance covered by the fire.
In the platoon it will often be advisable to hold one Lewis Gun Section in reserve to meet any unexpected event.
Lewis Guns in Defence
In the defence Lewis Guns should be sited with a view to oblique fire and to cover any ground where natural or artificial features will cause the enemy to bunch.
In position warfare the lines of fire of the Lewis Gun must be co-ordinated with those of the Machine Guns to ensure that all ground is adequately covered.
---
Lewis Gun Sections
1 N.C.O. and 6 Privates. Each section carrying into action:
Lewis Gun with spare parts – 1
Magazines – 20
Pouches – 19
Carriers – 2
Rifles – 5
Bayonets – 5
Cutters, wire – 1
Periscope – 1
Small Arms Ammunition, .303

Rifle; 50 x 5 – 250
L.G., 27 x 20 – 940

Revolvers – 2
.455 Ammunition, 36 x 2 – 72
(War Establishment lays down the strength of sections as 1 N.C.O. and 7 Privates, but for demonstrations the strength will be 1 N.C.O. and 6 Privates.)
Distribution of Weapons, Ammunition and Equipment
| | | | | | | | |
| --- | --- | --- | --- | --- | --- | --- | --- |
| | Sec. Comdr | No. 1 | No. 2 | No. 3 | No. 4 | No. 5 | No. 6 |
| Lewis Gun | | 1 | | | | | |
| Sapre Parts | | | 1 | | | | |
| Magazines | 1 | 1 | 2 | 4 | 4 | 4 | 4 |
| Pouches | 1 | | 2 | 4 | 4 | 4 | 4 |
| Carriers | | | 1 | 1 | | | |
| Rifles | 1 | | | 1 | 1 | 1 | 1 |
| Bayonets | 1 | | | 1 | 1 | 1 | 1 |
| Cutters, wire | 1 | | | | | | |
| Periscope | 1 | | | | | | |
| Revolvers | | 1 | 1 | | | | |
| .303 Rifle | 50 | | | 50 | 50 | 50 | 50 |
| .303 in Mags | 47 | 47 | 94 | 188 | 188 | 188 | 188 |
| .455 Rev Ball | | 36 | 36 | | | | |
Posted by regimentalrogue at 12:01 AM EDT
Updated: Wednesday, 12 June 2013 5:41 PM EDT