Medal Collecting; Themes

Collectors of medals, as in so many other human endeavours, approach their hobby from a personal perspective. This perspective will determine the degree to which they get involved in the hobby and the particular themes or concepts that shape their collections. The potential variety of collecting themes is what generates quizzical looks from collectors when they hear those dreaded questions: "Oh, you collect medals? What can you tell me about these ones?" There is always the possibility that the medals in question match the collector's personal interests but, more often, they may be outside his (or her) collecting theme and then the presumed expert appears to be unhelpful because of the assumptions made by the questioner.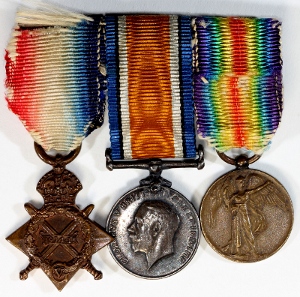 The uninitiated might ask: "How many possibilities could there be for medal collecting themes?"
Some collectors take a numismatic approach to their collections. For a selection of medals bounded by time or geography of represented service, they seek one example of each issued medal, and ideally in the best condition possible. With no less respect for the soldiers who earned the medals they acquire, their interests can lead them to trading or reselling medals for examples in better condition as their collections edge forward to their own concept of the complete collection.
Others seek medals with less of a concern for the particular condition of each example, as long as they fall within a selected theme. While some collectors limit themselves to a single theme, which may be a very broad categorization in itself (e.g., it may be as broadly described as "ones that pique my interest"), others collect within more narrow boundaries and may even pursue medals from multiple distinct themes at any one time. Medal collecting themes may include:
Individual battlefield actions
Campaigns
Wars
Unit (a single unit, or one battalion of a Regiment)
Regiment (all the units of a Regiment, which may include extension to amalgamated and perpetuated units within the regimental lineage)
Corps (e.g., The Artillery, or the Engineers)
Service (Army, Airforce, Navy)
Locality (servicemen who originated from a particular town, or county, etc.)
Nationality (born in a particular country, or with a distinctive surname)
National groups (e.g., soldiers from the First Nations of Canada)

People who are from identifiable groups of servicemen; for example, these could include:
Casualties
Gallantry award recipients
Prisoners of War

Military Occupations
Civil Occupations
Surnames
Service numbers

Specific number ranges (which may indicate unit of enlistment, time and place of enlistment, or just a range of numbers close to an ancestor's service number for the possibility of shared service)
lowest numbers
specific prefixes or suffixes

Specific medals

gallantry medals
long service and good conduct medals
particular medals with certain (or all possible) clasps

And here's where it gets complicated. Any collector might combine any variety of "simple" themes, perhaps defining their interests as:
"Soldiers who were artillerymen from Nova Scotia," or
"Canadian Expeditionary Force soldiers of Scandinavian descent who enlisted with the 197th Canadian Infantry Battalion (Scandinavian Overseas Battalion)," or
"Air Force Valour awards of the Second World War," or
"South African War groups including at least one long service award."
The potential variety is endless. Some collectors may have themes that give them a choice of medals to buy each month, or each week, which can create tough choices against limited collecting budgets. Others may have themes so narrow that they patiently wait and search for months or years between acquisitions. Some collectors may simultaneously build collections to two or more themes, which may or may not have areas of overlap. But each collector finds their own balance of commitment for time, funds and effort to build their collections and to research the men and their service.
It is in the diversity of themes and collecting approaches that we discover the great richness of medal collecting as a hobby as we acquire each medal and then, through research, meet the man, or woman, behind the service it represents.

Posted by regimentalrogue at 12:01 AM EDT