Trench Warfare - How to Fire a Machine Gun in case of Emergency
Topic: CEF
Excerpted from "Trench Warfare; A Manual for Officers and Men," by J.S. Smith, Second Lieutenant with the British Expeditionary Force, E.P. Dutton & Co., 1917.
---
How to Fire a Machine Gun in case of Emergency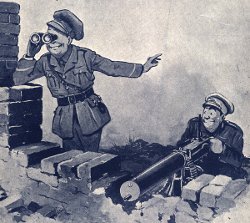 A Maxim Maxim; Fire should always be withheld till a favourable target presents itself. A cartoon by Capt Bruce Bairnsfather, from Fragments From France, published by The Bystander.
As a machine gun textbook is very dry, and it is difficult for a man who is not of a mechanical turn of mind to obtain the most elementary knowledge of the action from a book, officers should lose no time in getting in touch with a machine gun officer and learn from actual experience, how to load, fire and rectify simple stoppage.
LEWIS GUN. To load, put a full magazine on the magazine post with the cocking handle forward.
Pull back cocking handle to its fullest extent, and raise tangent sight unless the target is within 200 yards.
To fire, press the trigger and the gun will continue to fire as long as pressure on the trigger is maintained. It will only stop when (a) the magazine is emptied; (b) stoppage is set up. To remedy this (1) take off empty magazine and put on full one, reload relay and fire; (2) cocking handle stops in one of three positions. To remedy this one must have a thorough knowledge of remedying of stoppages.
VICKER'S AUTOMATIC. To load, pass the brass tack of belt through feed plug (right to left), pull back crank handle and pull belt to the left; release handle and belt ; repeat this process and the gun is loaded. Vertical adjustment for sighting is obtained by moving elevating wheel on quadrant of tripod, horizontal adjustment by tapping the rear cross-piece. The clamping handle is in front of the cross-band of the tripod. To fire, raise safety catch with first or second finger (the safety catch is a strip of steel which is under the thumb-piece or double button) and press the thumb-piece. The gun will now fire until pressure is released or until a stoppage occurs.
STOPPAGES. There are four common stoppages, distinguished by the position of the crank handle. Remedy: (1) Pull crank handle back and belt to the left, let go crank handle; (2) open rear cover, take out lock, remove bent cartridge from face of lock; (3) hit crank handle down. If it will not go, lift it a little, pull belt and hit again; (4) raise crank handle, pull belt, let go of crank. If not effective, then put in the spare lock, but unload first. To disable gun, remove lock and fuse from fire belt through the breech casing.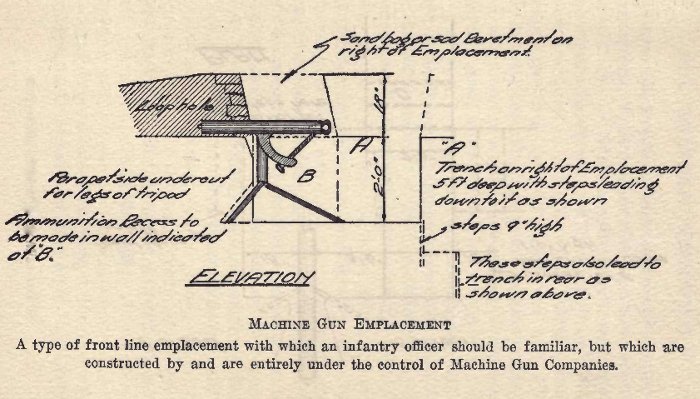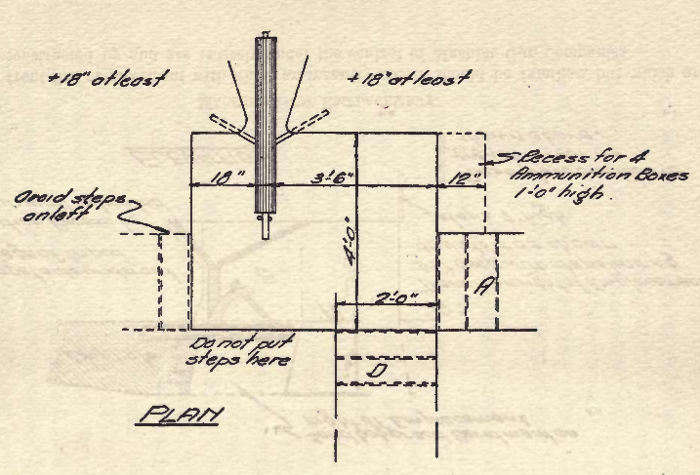 ---
Joseph Shuter Smith
Joseph Shuter Smith was an American author born in Philadelphia in 1893. He spent his childhood in Alaska during the Gold Rush and spent his years before the Great War as a lumberjack, miner, surveyor and cowboy. In 1914, continuing his adventurous streak, he went to Canada and enlisted in the Canadian Expeditionary Force, declaring his birthplace to be Port Hope, Ontario (with next of kin in Oakland, California). Smith enlisted with the 29th Canadian Infantry Battalion at Vancouver. He served in France and Belgium as a soldier in the CEF and, after being commissioned in August, 1916, as an officer of the British Army with The Royal Scots (Lothian Regiment). He resigned his Imperial commission after a year to return to the US and enlist in the American Army. Joseph Smith also wrote the memoir: Over There and Back in Three Uniforms; Being the Experiences of an American Boy in the Canadian, British and American Armies at the Front and through No Man's Land.

Posted by regimentalrogue at 12:01 AM EDT