Trench Warfare – Duties of an Officer
Topic: Officers
Excerpted from "Trench Warfare; A Manual for Officers and Men," by J.S. Smith, Second Lieutenant with the British Expeditionary Force, E.P. Dutton & Co., 1917.
---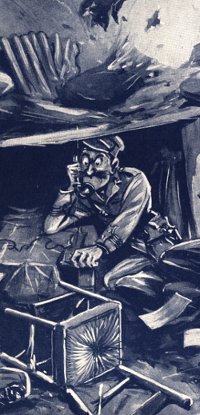 The Things That Matter; an officer's trials and tribulations in the trenches, from Capt Bruce bairnsfather's Fragments From France, published by the Bystander.
Trench Warfare – Duties of an Officer
Some of the questions an officer should ask himself on taking over a trench and keep in mind during his stay there, are:
1. I am here for two purposes to do as much damage as possible to the enemy and to hold my part of the line at all costs. Am I doing everything possible to insure my being able to do this?
2. Do I worry the enemy as much as I might, and are the periscope rifles, rifle grenades, catapults and patrols at my disposal organized in the best way to effect this purpose?
3. Am I doing all I can to make my part of the line, as strong as possible?
4. Should the enemy succeed in getting into any part of my line, will I be able to at once bring up a section of bombers for immediate counter-attack?
5. Do I connect properly with units on my right and left? Do I know the position of the nearest support, and the position of all machine guns in my vicinity, as well as their lines of fire?
6. Does every man know his firing position, and can he fire from it over the parapet at the foot of our wire?
7. Do I do my best to prevent men exposing themselves needlessly? Have I ascertained and warned all my men of the places in my part of the line, including communication trenches, which are exposed to the fire of hostile snipers?
8. Are my sentries in the right places? Are they properly posted by N. C. O.'s and have they received proper instructions? Are the sentries visited at frequent intervals?
9. Have I always got a man ready to take messages to company headquarters? Do I realize that I should at once report any information I may obtain about the enemy, and that such information may be of the greatest use to the highest commanders?
10. Do all my men know their duties in case of attack, especially the bombers? If the enemy succeeds in working into my line at any point, how can I best arrange for counter-attacking him?
11. Are there any suitable places in my part of the line which snipers can use? Have I pointed out to section commanders the portions of the enemy's trench which each one is responsible for keeping under fire, and where the enemy's loopholes are?
12. Do I thoroughly understand the best method of relief and bringing up of ration and water supplies, and do my men come up into the trenches in absolute silence?
13. Do my men know their way about the trenches in various routes to company and battalion headquarters?
14. Am I acquainted with the arrangements for access to the artillery and for asking, if necessary, for their immediate support? Do I know the location of the nearest telephone?
15. Am I doing my best to collect information about the enemy, his defenses, his activities and movements, and especially about his patrols at night ? What points in my front particularly require patrolling?
16. Are my listening patrols properly detailed?
17. Which is my best way to get through the parapet in order to go towards the enemy?
18. Do I know the last order regarding the use of B.0.S., gas and Zeppelin messages, and do I know exactly what messages to send?
19. Are the arrangements in case of gas attack complete and known to all ranks? Do I know the gong position, and does the sentry know the orders as to sounding it?
20. Have my men always got their gas helmets on their person and are they in good order?
21. Are my parapets and traverses bulletproof everywhere?
22. Is my wire strong enough and am I doing all I can to prevent my trenches from falling in?
23. Am I doing all I can to drain my trenches?
24. Have my men got weather-proof places to sleep in?
25. Are the trenches as clean and sanitary as they might be? Are live ammunition and empty shells properly collected? Have I made all possible arrangements for the collection of refuse and do the men realize that it must not be thrown over the parapets or in the sump-pits for sanitary reasons?
26. Where are my small ammunition and bomb stores, and are they under cover from weather?
27. Are all my rifles and ammunition clean and in good order, and have all my men rifle covers? Are their magazines always charged?
28. Am I doing all I can to prevent my men from getting trench feet? Have my men greased their feet before entering the trenches, and have they a pair of spare dry socks to change? Do my men wear gum boots when it is not necessary? Have I made all possible arrangements for drying socks?
29. Are the orders as to wearing equipment carried out?
30. Are my men using as firewood notice boards or wood from the defense or from the engineer or trench stores?
31. Are my men drinking water from any but authorized sources?
32. Do I know the name of every N.C.O. and man in my platoon, and do they know mine?
33. Do I insure that my men get sufficient sleep?
34. Have I sufficient periscopes and are they in good order?
35. Almost always remember that I am here for two purposes. Do as much damage to the enemy with the minimum amount of casualties resulting from retaliation, and to hold my part of the line at all costs.
---
Joseph Shuter Smith
Joseph Shuter Smith was an American author born in Philadelphia in 1893. He spent his childhood in Alaska during the Gold Rush and spent his years before the Great War as a lumberjack, miner, surveyor and cowboy. In 1914, continuing his adventurous streak, he went to Canada and enlisted in the Canadian Expeditionary Force, declaring his birthplace to be Port Hope, Ontario (with next of kin in Oakland, California). Smith enlisted with the 29th Canadian Infantry Battalion at Vancouver. He served in France and Belgium as a soldier in the CEF and, after being commissioned in August, 1916, as an officer of the British Army with The Royal Scots (Lothian Regiment). He resigned his Imperial commission after a year to return to the US and enlist in the American Army. Joseph Smith also wrote the memoir: Over There and Back in Three Uniforms; Being the Experiences of an American Boy in the Canadian, British and American Armies at the Front and through No Man's Land.

Posted by regimentalrogue at 12:01 AM EDT