The McGill University War Poster Collection
Topic: Militaria

The McGill University War Poster Collection
The holdings of the Print Collection in the Rare Books and Special Collections Division [at McGill University] include some 250 Canadian posters from the two World Wars. The posters are accessible to researchers who visit the Division's Lande Reading Room; a printed finding aid is available from the Reading Room Supervisor.
This website contains basic descriptions and images of each poster, an artist index, a search facility, and an essay about Canadian War Posters. The search facility enables you to search by World War, by Category, by Artist, or by keyword. The results of your search are displayed as thumbnail images. Click on a thumbnail to obtain a larger image and a full description. Each description includes the following information: the poster ID number and title or lead text; the date, artist, and publisher, when known; size, and appropriate notes.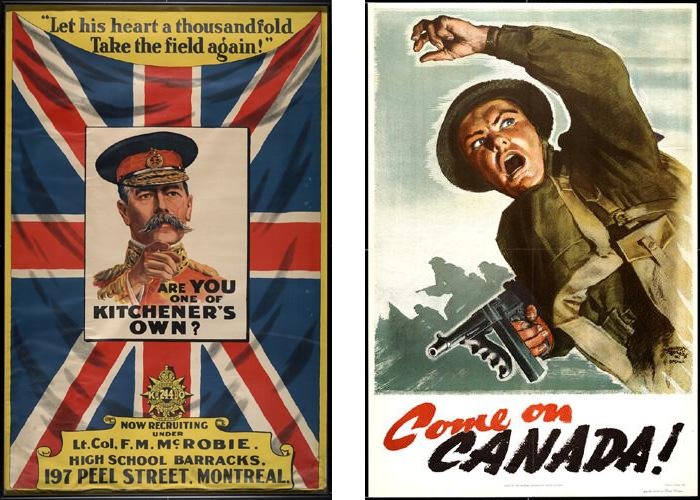 It is possible to obtain digital or physical reproductions of the posters in this collection by using the available
order form
. Either digital copies, or printed copied (12" x 18" in size) can be ordered.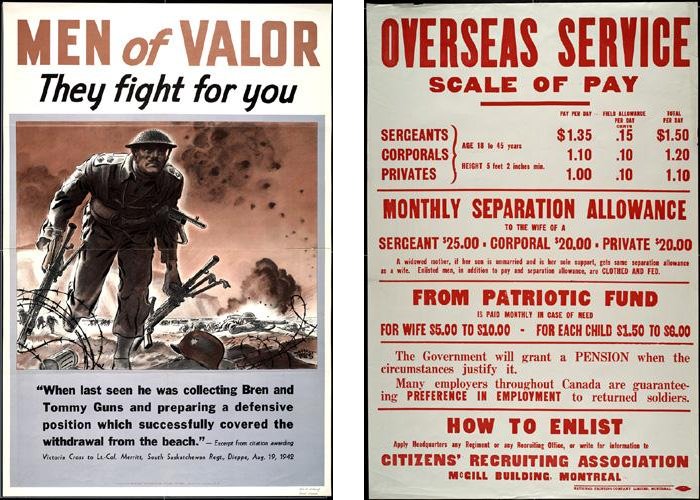 From the
introduction page
for the collection:
War posters aimed to impart a clear message to the viewer. Whether a poster encouraged the purchase of Victory Bonds or discouraged talk of Allied troop movements, its mission was to convey a specific message that could be interpreted only one way. The methods by which posters imparted their messages were different in each of the World Wars. In the First World War, posters were beset with text, while Second World War posters more effectively used emphatic slogans and intense graphics. Overseas Battalion 148 Now Recruiting, a First World War poster designed by the architect and artist, Percy Erskine Nobbs (1875-1964), offers an image of an officer slaying a German eagle. Compared to Allons-y Canadiens, a Second World War recruiting poster by Henri Eveleigh (1909-present), the Nobbs poster has less colour, more text, and less emotional impact. The officer is without expression as he slays the symbolic eagle. In contrast, the soldier in the Eveleigh poster charges toward the viewer, brandishing his weapon, an expression of intense emotion on his face. The simple text, Allons-y Canadiens, is splashed in bold letters across the lower quarter of the poster. This is not merely an invitation to join the army, as was the case with many First World War posters, but a passionate command. During the Second World War, more effective appeals were made through posters, partly because the world had already experienced the horrors of one world war, and also because advertising experience and contemporary studies had shown that dramatic and emotional appeals were more effective methods of reaching the Canadian public. A study by the Young and Rubicam agency of Toronto in 1942 found that the most effective posters were purely emotional, "appealing to sentiment through realistic images with photographic details, accessible to millions of middle-class citizens" (Choko 1994). The study found that symbolism and humour were considered ineffective by the public. The artists who designed war posters ranged from anonymous graphic artists to well-known Canadian painters and for this reason Canadian war posters present a wide variety of styles. Sometimes the artists were winners of war poster design competitions which were held during both wars. The need to find effective imagery for posters gave many artists and graphic designers a new opportunity to hone and expose their talents. Montreal-born and -trained architect and painter, Harry Mayerovitch, was one such poster designer. He worked in Ottawa from 1942 to 1944 and created a number of posters for various war- time campaigns under the pseudonym "Mayo". He won the first and third prizes for Canadian war posters in 1944.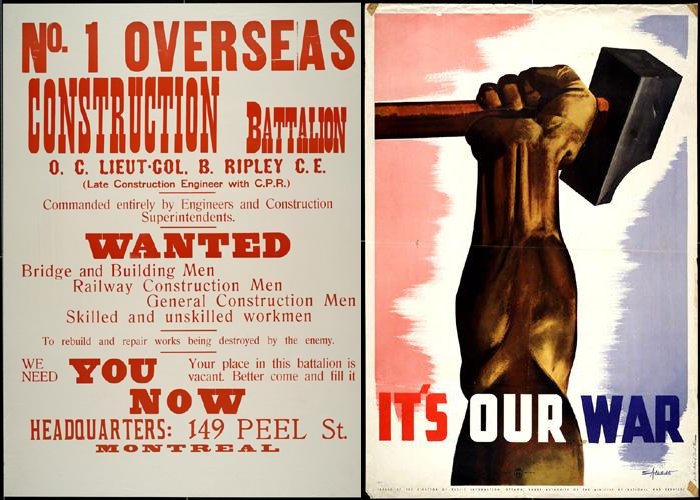 Posted by regimentalrogue at 12:01 AM EDT