North-West Canada Medal 1885
Topic: Medals

Militia General Orders
Ottawa, 18th September, 1885
G.O. No. 2 — For Service in the North-West in 1885.
The Minister of Militia and Defence has been informed through the Secretary to His Excellency the Governor General, that His Excellency has received intimation from the Imperial Secretary that an Imperial War Medal will be conferred upon the troops recently engaged in the suppression of the Rebellion in the North-West Territories.
---
In 1885, thousands of Canadian Militia soldiers, accompanied by a handful of Permanent Force (Regular Force) soldiers from "C" Company of the Infantry School Corps at Toronto, deployed west to suppress the Rebellion led by Louis Riel. To mark their service in the west, these soldiers were awarded the North West Canada medal.
5,650 North West Canada medals were issued, of which 16 went to British officers that served on the campaign. Of these, 1,753 soldiers were also eligible for the SASKATCHEWAN clasp (bar) for fighting at Fish Creek, Batoche, Cut Knife and/or Frenchman's Butte along the Saskatchewan River.
The North West Canada medal was issued to recipients unnamed, but many can be found named, either contracted privately by recipients, or with consistent naming among members of units indicating a common effort to have their medals impressed or engraved with the recipients' details.
---
Militia General Orders
Ottawa, 7th May, 1886
G.O. No. 2 — For Service in the North-West in 1885.
Adverting to No. 2 of General Orders (21) 18th September, 1885, these "War Medals" may be delivered to "next of kin" of deceased members who had become entitled to such. The Officer commanding the Corps, or other, entrusted with the delivery of medals to members of his Corps will satisfy himself that the person to whom he delivers the medal is "next of kin" to the party originally entitled to receive it, the receipt for the same to be so expressed.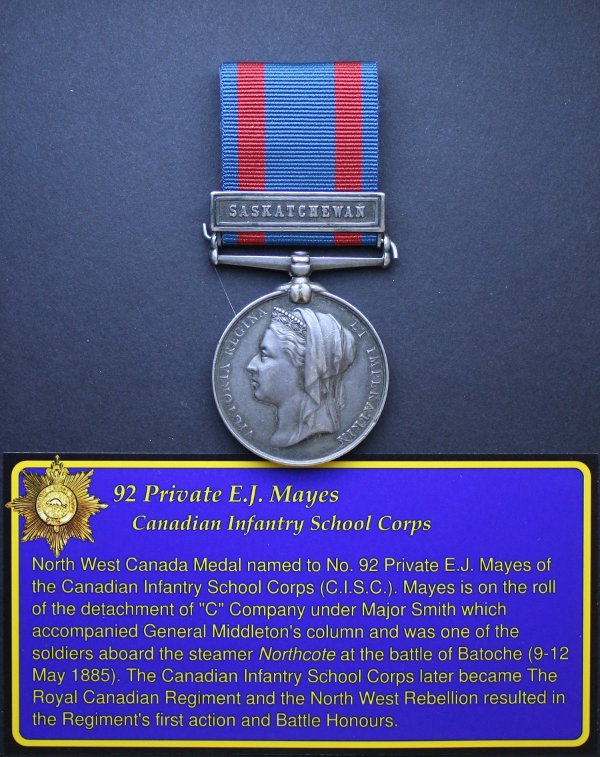 Posted by regimentalrogue at 12:01 AM EDT