The Canadian Honours System
Topic: Medals

Courtesy of the Department of National Defences
Directorate of Honours and Recognition
, comes this site on Canadian Honours. The
Canadian Honours Chart
identifies the many honours, awards and medals that can be worn by members of the Canadian Armed Forces. Ranging from the
Victoria Cross
to the
Commissionaires Long Service Medal
, each identified medal links to an associated page giving general information and eligibility requirements.
For medals that are no longer issued, a similar series of pages can be found in the Veterans Affairs Canada website; Orders, Decorations and Medals.
Recipients of honours and awards for valour and meritorious service can be researched at the Governor General's website:
Earlier recipients of valour, meritorious and long service awards can also be sought among the pages of the London Gazette and the Canada Gazette, but be warned, the searching of either archive can require patience.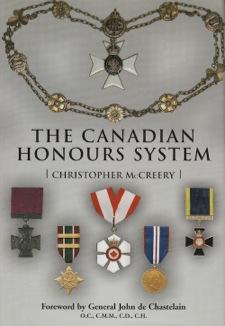 For guidance on wearing of medals and ribbons, see the following guide:
For those with an interst in learning more about Canadian medals and awards, there is no better source to start with than Christpher McCreery's book; The Canadian Honours System.
For research into older medals, try the Medal Yearbook and/or British Battle and Medals, two valuable references for collectors and researchers.
Posted by regimentalrogue at 12:01 AM EDT