Button Backmarks of The RCR - Guelphic Crown Buttons
Topic: Militaria
Button Backmarks of The RCR
Guelphic Crown Buttons
Charles Pitt & Co.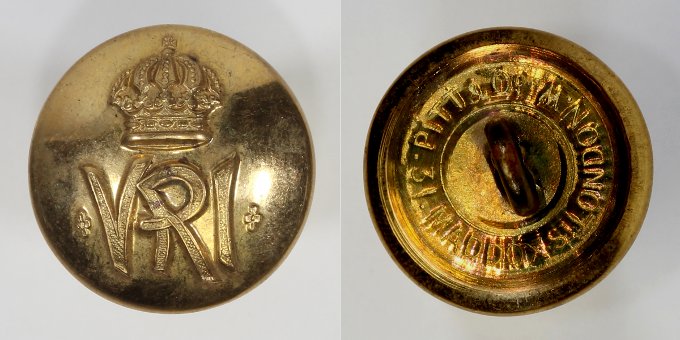 "31 MADDOX ST., LONDON W" - The Charles Pitt's company operated between 1975 ans 193, when they were bought by JR Gaunt of London (just before Gaunt was itself bought out by the Birmingham Mint). The marking "31 MADDOX ST., LONDON W" places not only the company geographically during the period these buttons were produced, but also in time. This mark was in use from 1895 to 1899, although is use on Livery buttons continued to 1973. This placed the manufacture of these button between 1895, when Pitt started using the mark, until 1926, when the Guelphic crown was replaced on regimental accoutrements.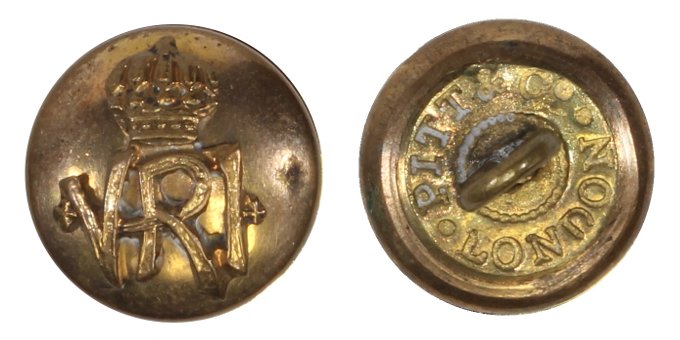 "PITT & CO LONDON" - The "PITT & CO LONDON" mark is more difficult to place, since the smaller button it is found on may only have resulted in the abbreviated mark due to space constraints.
E Stillwell & Son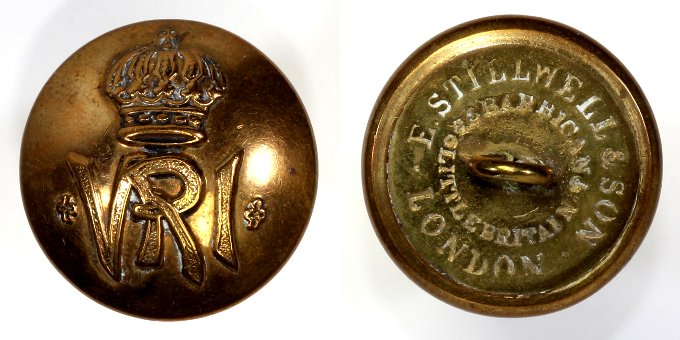 E. STILLWELL & SON, LONDON, 25 BARBICAN & LITTLE BRITAIN -
Stillwell & Son
also known as Edward Stillwell & Son
"Edward Stillwell started business about 1825, and it became Stillwell & Son in about 1852. They ceased trading about 1957. An 1881 directory listed them as: "Edward Stillwell & Son, gold & silver lacemen & embroiderers, army & navy outfitters, cork helmet manufacturers & sword cutlers, Manchester & woollen warehousemen, & every description of Masonic clothing, jewels, furniture & fittings, tinsel, lace & trimmings, prize medal 1862 for good execution,25 & 26 Barbican, London EC; 6 Little Britain, London EC; & 29 Savile Row, Regent Street, London W"
William Scully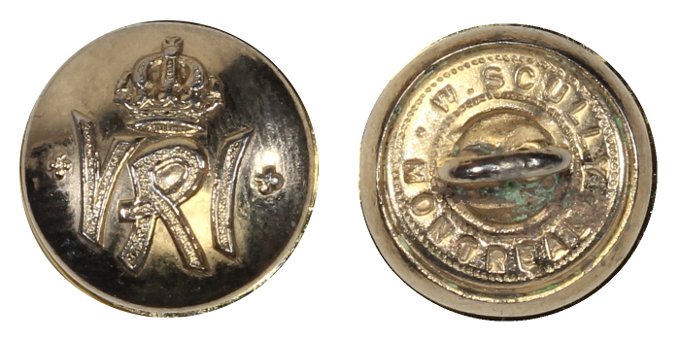 "W. SCULLY, MONTREAL" -
"The firm of William Scully Ltd. earned a special place in Canadian military history by becoming the first firm to produce regulation headdress and badges in Canada. American military manufacturers had always met the needs of their armed services through production in the United States, but with the exception of a few small items on trial, all Canadian Militia and Police headgear and badges had been designed and manufactured in England and imported."
"In 1908 the company moved to University Street, Montreal. The factory was the only one of its kind in Canada, and was then in full operation and able to accept a variety of military and civil contracts for caps and helmets, gold and silver embroidered badges, metal badges, uniform buttons, accoutrements and waterproof clothing. Designs were created and dies for badges and buttons were produced by master craftsmen on the site. Other military items such as swords and spurs, which were not manufactured by the company, were stocked or could be ordered, producing a very complete line of goods."
Extract from Canadian Military Gazette of August 11th, 1908.
Firmin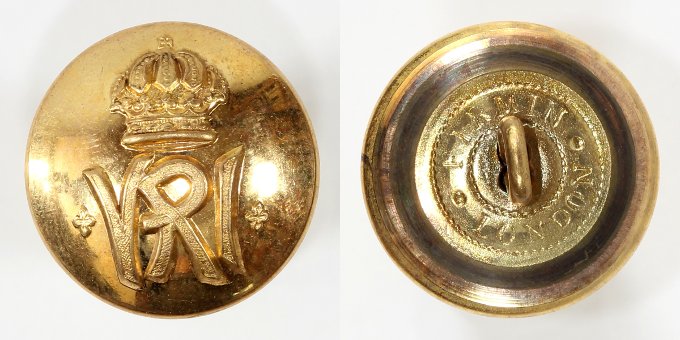 "The oldest part of our Group, Firmin & Sons was established in 1655 which makes us older than the Bank of England. We have touched history in a way few companies of our type have. Our products were present at the Battles of The Nile, Trafalgar, Waterloo and Gettysburg. Our uniform and insignia products are still used today supplied to service personnel and deployed around the world."
Martin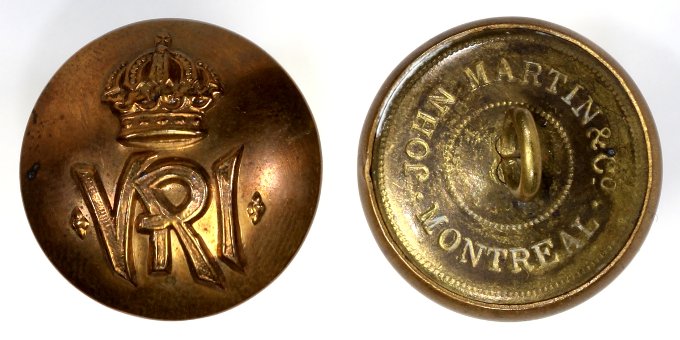 Posted by regimentalrogue at 12:01 AM EDT
Updated: Monday, 18 March 2013 4:45 PM EDT