The Organization of the Canadian Militia; 1914
Topic: Canadian Militia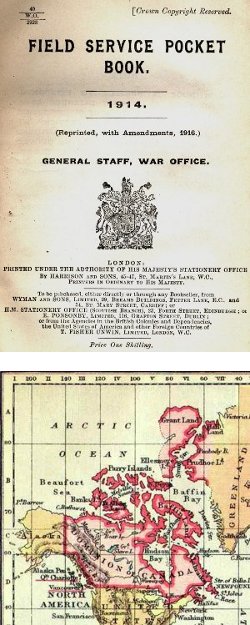 An essential part of the equipment and references carried by every officer of the British Army and Commonwealth forces in the early 1900s was a copy of the Field Service Pocket Book. The standard aide memoire of officers on operations anywhere in the Empire, this little volume provided all manner of information necessary for planning and conducting operations, ranging through staff duties, rates of march, engineering and logistic guidance, and details on the forces of the Empire.
The 1914 edition of the Field Service Pocket Book provides the following description of the forces of the Dominion of Canada:
---
CANADA
| | | |
| --- | --- | --- |
| Nature of Force | Time of Engagement (Years) | Arms and Armament (exclusive of that of Fixed Defences) |
| Permanent Militia | 3 | 4.7" Q.F., 18-pr Q.F., 13-pr Q.F., 12-br B.L., 60-prs and howitzers, M.L.E. and Ross rifles, and Maxims |
| Active Militia | 3 | As above. |
| Royal N.W. Mounted Police | 5 | M.L.M. and Winchester carbines, Colt revolvers, Maxims and Maxim-Nordenfeldts |
Units of all arms and departments. The permanent force and active militia together comprise:–
33 regiments and 2 independent squadrons, cavalry and mounted rifles.
2 batteries horse artillery
31 batteries field artillery
10 brigades (31 batts.) field artillery
4 regiments (20 cos.) garrison artillery
2 regiments (5 batts.) heavy artillery
Engineers

Permanent corps
5 field cos.
3 field troops
1 wireless detachment
1 section field telegraph company attached to each field company

Corps of Guides
95 regiments and 6 independent companies of infantry
13 signal sections
15 companies and 7 detachments Army Service Corps
7 cavalry field ambulances
14 field ambulances
2 general hospitals
Other departmental troops
Organized as 7 mounted brigades, 10 brigades field artillery, and 23 infantry brigades and army troops.
A Militia Council, presided over by the Minister of Militia and Defence, administers the forces.
Eastern Canada is sub-divided into six divisional areas, in each of which a division of all arms is organized, together with 4 cavalry brigades.
Western Canada is divided into three military districts.
Organized into 12 divisions and administered by a Controller at Ottawa.
All males between 18 and 60 are liable for service in time of emergency.
Posted by regimentalrogue at 12:01 AM EDT
Updated: Friday, 22 March 2013 12:03 AM EDT