The 1914-1915 Star
Topic: Medals


The first medal that many Canadian soldiers might have been eligible to receive for their First World War service was the
1914-15 Star
. Eligibility for the 1914-15 Star was achieved if the soldier served in a theatre of war before the end of 1915. In the Western Europe theatre of war, for operations in France and Belgium, the specific dates of eligibility were from midnight of 22-23 November 1914 until 31 Dec 1915.
Over two million 1914-15 Stars were awarded to soldiers of the British Empire, and of these, 71,150 went to Canadian soldiers of the Great War (There is also a 1914 Star for those who reached a theatre of war before the end of 1914, of which only 160 were awarded to Canadians.) each 1914-15 Star is impressed (stamped) on the reverse with the recipient's service number, rank, name and unit. Officers medals do not include a service number because officers did not have service numbers during the First World War.
Any soldier who was eligible for the 1914-15 Star also received the British War Medal and the Victory Medal, these three forming the colloquially named First World War "trio."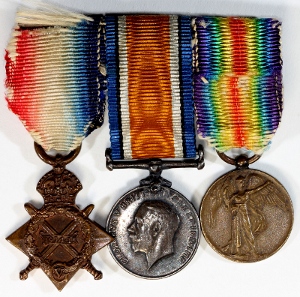 Posted by regimentalrogue at 12:01 AM EDT