If you went to Hospital, You were Going to Get the Blues
Topic: CEF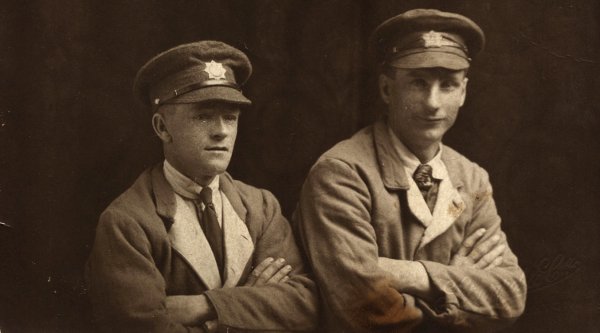 The photo above shows an unidentified soldier of The Royal Canadian Regiment with a friend. Both men are wearing the standard dress for convalescing soldiers — Hospital Blues
During the First World War, many soldiers of the Canadian Expeditionary Force found themselves spending time in hospital. Diseases and injuries that today might be healed relatively quickly with batteries of antibiotics and other medicines to help the body combat infection could mean a hospital stay of week, or months, longer than we might envision under modern health care. Wounded and sick soldiers, depending on available facilities could find themselves recuperating not only in Hospital in France, but also throughout the United Kingdom. Especially, for the many which crossed the Channel as stretcher cases, their units administratively transferring them to holding units in the UK, there was not effective system (nor could there be one efficiently) that ensured a soldier would awake to find his own clean uniform to wear while convalescing.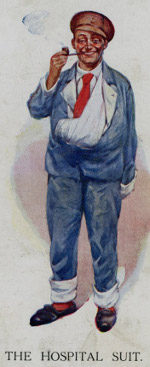 Instead, we find that widespread service was made of the British Amy's existing solution for clothing recuperating solders, the "hospital blues." Blue linen suits, lined in white and nattily accessorized with a bright red tie. What self-respecting soldier wouldn't find that outfit stylish and debonair for "walking out" during his convalescence, especially since they came in a range of few sizes fitting few soldiers well. Although originally cut to be buttoned to the neck, turning down the collar of the jacket added the benefit of bright white lapels to the hospital blues' appeal.
There was, however, one saving grace. Each soldier kept and wore his service cap and regimental badge with the hospital blues. This ensured they retained their regimental affiliations, and with discerning eye, could identify members of their own unit, or of ones they had fought with.
Soldiers might find themselves in "blues" for months at a time. The outfit also ensured that locals recognized the recovering soldier as such, and not mistaking him for someone they thought deserving of a white feather for ducking military service. The hospital suit garnered the respect due a man fighting for nation and Empire, even if the cause of his lengthy hospital stay might have been due to catching something his mother and minister would highly disprove of.
The greatest advantage of the blues was that while required to wear them, a soldier knew he was going to be sleeping in a warm bed, eating three square meals a day, and that his duty comprised getting fit enough to return to the fight.
More on Hospital Blues:

Posted by regimentalrogue at 12:01 AM EDT
Updated: Wednesday, 23 November 2016 2:45 PM EST