Feeding the Troops, 1914
Topic: Army Rations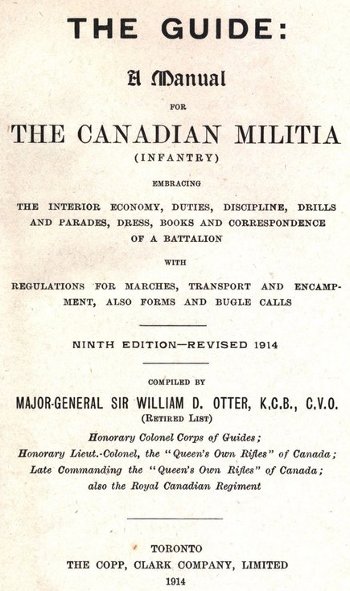 The Guide: A Manual for the Canadian Militia (Infantry); Compiled by Major-General Sir William D. Otter, K.C.B., C.V.O. (retired List) – Ninth Edition—Revised 1914
Rations, Fuel and Light
All ranks of a battalion on continuous or permanent service are entitled to free issue of rations, fuel and light, or equivalent.
The daily scale of rations for each individual is as named below, those of fuel and light are not given here, but are sufficient for the proper cooking of food, the warmth and lighting of the quarters that may be provided:
Bread … 1 lb.
Meat … 1 lb.
Potatoes … 1 lb.
Bacon … 2 oz.
Beans … 2 oz.
Jam … 2 oz.
Butter … 2 oz.
Cheese … 1 oz.
Split Peas … 1/2 oz.
Sugar … 2 oz.
Salt … 1/2 oz.
Tea … 1/4 oz.
Coffee … 1/3 oz.
Pepper … 1/36 oz.
Vegetables (fresh) in season … 6 oz.
The manual for Canadian Army Service Corps Training (1914) provided the following additional guidance to supplement this listing:
In camps of instruction and on active service one and one-quarter pounds of bread or one pound of biscuit is allowed, also the following equivalents:

In lieu of beans: Two ounces of oatmeal, flour or rice.
In lieu of jam: Two ounces of dried prunes
Two rations of teas or two rations of coffee in lieu of one ration of each.

Posted by regimentalrogue at 12:01 AM EST