"Bend the knee; Shoot the foot"
Topic: Drill and Training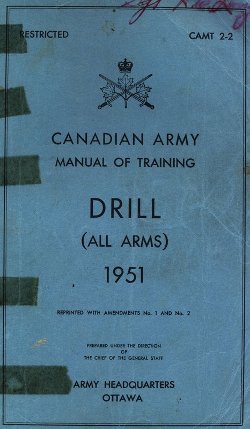 With stereotypical military attention to detail, the 1951 Canadian Army Manual of Training for Drill for all arms details the two fundamental physical movements which will comprise much of a drill instructor's attention and verbal repertoire when teaching new recruits:
Squad Drill at the Halt — Without Arms
Throughout this manual two distinct movements of the foot are referred to constantly. These are:—
(a) "Bend the … knee" – used when the body has to remain still or come to rest; and
(b) "Sheet the … foot" – used to move the body forward from rest.
They are the basic movements of foot drill.
To bend the … knee — the leg that is on the ground is kept braced back with the foot firm and flat on the ground. The opposite knee is bent by raising it in front of the body so that the toe hangs directly below the knee and the foot is at a natural angle at least six inches from the ground. The leg is then straightened sharply so that when the foot reaches the ground the knee is braced back and the flat of the foot is firmly on the ground and in the required position.
To shoot the … foot forward — the opposite leg is braced back but allowed to flex at the ankle and toe while the detailed foot is shot forward with knee braced and ready to carry the weight of the body forward on to that foot.
In all movements of foot drill, the following must be avoided:—
Scraping the foot on the ground.
Rising on the toes and clicking the heels.
Hopping or leaving the ground with both feet at once.
It is important that these movements (and faults) are demonstrated at the start and impressed on all recruits so that movements taught later are correctly done.
---
Perhaps we can say that, in Army Physics, a body will remain in motion until a knee is bent, and a body will remain at rest until the foot is shot.
Posted by regimentalrogue at 12:01 AM EST